Hi Everyone,
I'm looking forward to another great week of running. Monday we have an option to go to Canary Wharf, more on that below. Wednesday we're going to Regents Park to do a different type of tempo/speed drills, make sure you read the directions in the routes section. Remember that these work-outs are more fun if you can stick together with your group and tackle the challenge together. It's also easier for the group to stay together during this workout, because we're not on the track. Friday we're running to Borough Market. As always if you want to stick closer to home on Friday you can run the hill.
Building distance in our training – Monday to Canary Wharf
This week we have another long destination run on the schedule for Monday – Canary Wharf at 9 miles. Please note that the standard training program has a base of 7-8 mile long runs in November-December with a suggestion that you try a 9-10 mile run if you're feeling strong. The gradual training program has a base of 5-7 mile long runs. Here's the
LINK
 to our training plans if you would like to take a look. Don't feel like you have to do this run just because it's on the schedule. Take stock in how you are feeling and whether you have tackled some longer runs this fall.  If you feel you aren't up for Canary Wharf you can join the group to the Wall and then turn around and run home instead and continue to do the 7- and 8-mile runs on the schedule for the rest of November and December. We'll be doing the 9-mile Canary Wharf route again on 29 January 2018. If you want to run to Canary Wharf, that's great! Try to arrive early to Barclays and find your group right away so the pace groups can start together.
Utrecht Hotel Rooms – LAST CHANCE
We booked our entire original block of rooms which means that right now we have 95 women signed up for Utrecht. Wow! We added more rooms to the block at the same rate. However, if we need to add even more rooms again it will be at a higher rate. So if you are considering going to the race, please book now. We have a generous cancellation policy, so you could cancel later. Also, if your plans change for any reason and you are no longer going to the race, please let us know first before you cancel your room. Here's the link to our dedicated booking page: 
https://www.nh-hotels.com/event/women-running-the-world
Keep running,
Jane
ROUTES
Monday, 13 November – Canary Wharf  – (9.3 miles)
Section One – Canal to the Wall
The route starts out as the Wall.  Run along Prince Albert Road to join the canal at Charlbert Street.  Run along the canal for approximately 3 miles until the canal pathway ends at the famous "Wall."
Section Two – Angel Roads
We need to run through the Angel neighbourhood until we can re-enter the canal path.   At the wall follow the ramp up to Muriel Street.  (This is a good place to wait for your pace group.)  Take a right and then an almost immediate left up a path that winds between the apartment buildings.  See the picture below for the entrance to the path.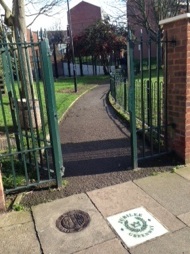 Keep going straight on the path and it will become Maygood Street.  When you get to the intersection of a main road (Barnsbury Road) turn right.  Run until you make the second left onto Chapel Market.  (There is a metal archway saying Chapel Market and a zebra crossing at the intersection.)  Follow Chapel Market until the end.  (NB:  There is a public Ladies Room at the end of White Conduit Street, which intersects with Chapel Market about midway.)  Turn right at Liverpool Street to the major road Upper Street.  Cross Upper Street and turn left.  (NB:  Angel Tube Station is to your right if you are going home from here.)  Make your first right at Duncan Street and follow until the end.  The entrance to the canal path will be directly in front of you.  Go straight along the canal (NOT a sharp right turn.)
Section Three – Canal to Limehouse Basin
We run for about 4 miles following the canal path past Victoria Park to the Limehouse Basin.  We exit the canal path at the wire looking bridge – see picture below – and take the brown brick steps up to the left.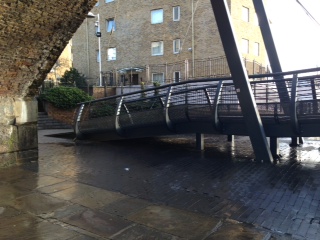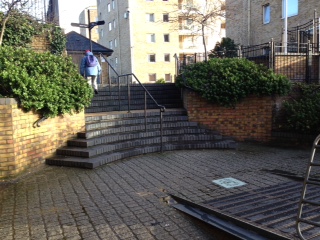 Section Four – Limehouse Basin to Canary Wharf
At the top of the brick steps, go straight.  At the Limehouse Gallery and Bronze Age shop turn right.  Run along the water until you reach the second metal foot-bridge leading to a park.  Cross the bridge and run through the park.  After the park, you'll run straight, under an arch and the water will be on your right.  Run with the water on your right until you see the long flight of steps next to Royal China – see picture below.  You're almost there!  Only a third of a mile remaining!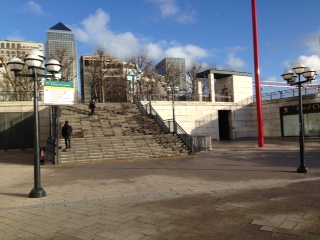 Run up the steps and straight ahead, through the small park to India Drive and then veer slightly right along Cabot Square.  You're heading for the big skyscraper building in front of you.  Stop when you see the sign for the Canary Wharf DLR Station at the 'mall' entrance on the South Colonnade.   Stretch by the mall entrance, then head inside for a much earned coffee. Afterwards, we'll head to the Canary Wharf Tube station [Jubilee Line] and tube it home to SJW.  Congratulations!
Wednesday 15 November – Tempo Diamonds —Speed Drills
We are continuing with our focused tempo running on Wednesdays.  This week we will do 'diamonds'—they are fast but also fast to be done with so give them a try!
Head over to Regents Park, the normal way.  Enter the Park at the Charlbert Entrance and veer to the left path.  When you reach the first intersection with the other sidewalk, it is time to turn on your running jets.  You will run hard for 1 minute, then recover by running slowly for 3 minutes; then run hard for 2 minutes and recover by running slowly for 3 minutes; then run hard for 3 minutes, recover run slowly for 3 minutes; run hard for 2 minutes, recover run slowly for 3 minutes and finally run hard for 1 minutes, recover run slowly for 3 minutes.
The 'diamond' looks like this:
1 minute hard                     3 minutes jogging recovery
2 minutes hard                   3 minutes jogging recovery
3 minutes hard                   3 minutes jogging recovery
2 minutes hard                   3 minutes jogging recovery
1 minute hard                     3 minutes jogging recovery
If you need to extend the amount of time for the jogging recovery, that's fine, you can jog up to twice the amount of the hard run time [so 6 minutes max recovery jog for the 3 min hard run]
This type of running is best done within the park so you don't have to contend with driveways etc.  If you find you need more mileage in Regents Park, just keep looping however you see fit.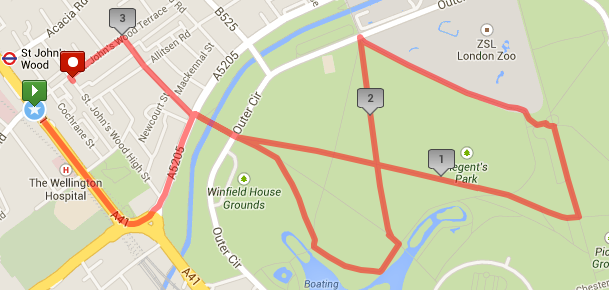 Friday 17 November – Borough Market via Westminster Bridge – 6 miles
We head to Hyde Park via the usual route. Start heading west on Circus Road and turn left on Grove End and follow south as it becomes Lisson Grove.  Cross over Marylebone Road and continue on Seymour Place until the end.  Turn right and cross over Edgware Road and then left to enter Hyde Park at the intersection with Stanhope Place.   Run along the eastern edge of the park to Hyde Park Corner, under Wellington Arch and down Constitution Hill.  Run past the Victoria Memorial down the mall and enter St. James Park.  Run over the pond and out of the park, turning left onto Birdcage Walk and down into Parliament Square to Big Ben.  Continue past Big Ben and cross Westminster Bridge. After the bridge turn left to run along the Thamesuntil the river path ends after Southwark Bridge. Borough Market is under the railway bridge near the London Bridge station. The official address is 
8 Southwark Street SE1 1TL
.