Hi all,
Halloween was so much fun with WRW this year! I loved your running costumes! Everyone was very creative and we had a large group run to Brompton Cemetery and stay for coffee at Whole Foods. I also liked all the photos of costumes and pace groups that you posted on our Facebook group. (I recommend joining our Facebook group if you haven't done it yet. All you need to do is request to join the group "Women Running the World").
We're sticking closer to home this week and running to Hyde Park on Monday. The training schedule calls for 8 miles. If you're not quite ready for 8 miles, that is fine. If you are feeling strong, consider pushing yourself to do a bit more mileage than you have been doing even if it isn't 8 miles. We're going to Paddington Track for a tempo run on Wednesday and the Heath on Friday.
Tempo Run Wednesday
This week we're trying something new and heading to the Paddington track so make sure you read the description below in the route section. Over the next few months leading up to the race we'll be doing some more structured tempo/speed work. If you haven't done speed work before, it's important that you don't jump right into doing sprints. Each workout will have an easy warm-up and even at the point when you're supposed to run hard let yourself build up to speed over a few steps or more. SPEED WORK IS SO MUCH MORE FUN IF YOU TACKLE THIS AS A GROUP AND ENCOURAGE EACH OTHER!  Wait for the group during the recovery parts and at the end so you can travel back to Starbucks together. Some of the most difficult workouts can be the most fun if you do it with the group!
Utrecht Hotel – Book Now!
If you are considering joining the half-marathon trip to Utrecht, please book your hotel now. Most of the rooms in our block have been reserved and we may need to add more rooms. The sooner we know if we need more rooms, the better. We have a very generous cancellation policy so you could always cancel later if necessary. The link to our dedicated booking page is:  
https://www.nh-hotels.com/event/women-running-the-world
San Francisco Half Marathon – 29 July 2018
We have a growing group of WRW runners from London and the US who are planning to do the San Francisco half marathon this summer. It follows either the first half or the second half of the San Franscisco marathon. The WRW group is doing the first half and the early start at 5:30am so they can run over the Golden Gate bridge. What an amazing life experience! If you want to connect with the group, some of the people who are either signed up or are seriously considering it are: Maureen Fossum, Darcy Fautz, Mee Lee, Carmine Najjar, Kathy McMahon, Danja Roberts and Poornima Guruprasad. If you have any questions you can email Maureen at
fossumm@mac.com
. You can follow this
LINK
to the race website.
Keep running,
Jane
ROUTES
Hyde Park  8 miles
This run takes you around the periphery of the park.  As before, you turn right at the silver sphere after entering the park.  Cross over N Carriage Rd and keep going until the end of the park.  Turn left to run along the edge.  Just keep turning left until you're heading  back up along the eastern edge of the park.  Exit at Upper Brook St/Animals of War Memorial.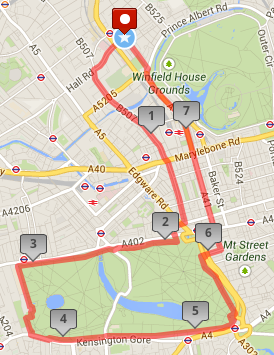 All the Hyde Park routes are listed on our website.
Wednesday 8 November – Paddington Track
We are trying something new!  Meet at Barlcays as usual, then the groups will jog the 1 mile warm-up to the track at Paddington.
We begin as if we are going to the canal down Circus Road, which becomes Hall Rd, and Sutherland Rd without any turns . There is a crosswalk just before Randolph Ave. Turn right onto Randolph Ave, pass Maida Vale tube, then entrance to Paddington Park is on left.
Since this is the first time we are trying this, it is a bit of trial and error. All suggested times are subject to change.
The 8s should leave as early as they can to allow for spacing at the track.
Workout:
1 mile jog to track
Some stretching and some striders before you begin the workout. Striders explained in the link below.
4 x 800 meters (2 laps) with one lap recovery in between each one.
1 mile jog back to Starbucks for warm down
Total mileage, 5 miles
Group targets:
8's    3:30 for 800 metres
9's    4:00 for 800 metres
10's   4:45 for 800 metres
11's   5:15 for 800 metres
The one lap jog in between each one is not timed, but best not to walk, but get into a slow recovery jog immediately.
http://dailyburn.com/life/fitness/run-faster-strides-running-drills
Friday 10 November – Heath Routes
It's Friday which means everyone up to the Heath. You can pick your distance and whatever you choose, there will certainly be someone else interested in running that distance. All of these routes are on the website.
If you are not up for a hill run yet, no problem, just let us know. Every week there are a group of women who prefer to do a flat run. We can help make sure that you find each other.
4 miles:  A great way to ease into running the hill. Run up to the Hampstead tube station and back. If you have trouble running up, think about how easy it will be running down!
5 miles: The Betsy Route
6+ miles:  The partial Heath route OR the Reverse Heath route OR Pergola route
7.5 miles: The Highgate route
8 miles:  The full Heath route
Click here for maps of all of the Heath routes.