Hello Runners!
I hope you all had a wonderful, restful week out of the routine– whether that meant skiing, sunning, or hanging in London (which was blessedly sunny and pleasant this week)!  It's been a strange interval– with our half marathon recovery week just before break, it feels like a long time since we've been in the regular running-together mode.  It will be great to meet up again this week and start doing some of the fun, relaxed running we do in the spring, after the half marathon training is done.
Running this week.  Monday is technically still a holiday, so we don't 'officially' meet.  But your Routes team couldn't resist offering us a fun Easter Monday-themed route, so Melissa Kay has given us 'the Bunny Hop' for anyone who wants to meet up and do a bouncy, new run through Hyde Park to finish in Green Park!  Wednesday we will do a 6.8 mile Notting Hill route that takes just a small detour to see some of the neighbourhood's famous pastel-hued homes.  (Don't be put off by the distance– even if you didn't run much in the last two weeks, you just ran a half marathon(!)– you are still plenty fit for 7-8 mile runs if you just take the pace easy and enjoy yourself).  And Friday is Earth Day, so we've added a fun twist to the usual Heath run– calling it the Hug-a-tree run as you take your choice of Heath routes and grab a photo of your favorite, huggable tree!
Looking ahead.  This time of year we have so much fun with favourite routes– and there are so many now, it's hard to get them all in!  We will be offering a number of 'adventure runs'– destination runs that require a tube/train ride either to the start or from the finish (or both).  Of course there are always a zillion options for fun and beautiful local runs, and always people who are running local rather than the destination, so just connect on Whatsapp and find friends for your preferred route!  But below are some calendar notes to give you a chance to plan if you do want to do any of the big adventure routes: 
April 25:  Olympic Park via the canal (8+ miles), or Coal Drop Yards via the canal (5 miles)
May 9:  Hampton Court Adventure Run (8 miles)
May 16:  Alexandra Palace Adventure Run (5 miles, to Finsbury Park finish)
May 23:  Choose-your-own-adventure Pace Group Options
May 30: Virginia Water/Windsor Adventure Run (7 miles)
Believe it or not, that is it for this week!  I expect we will jump back in with both feet and be back to all the shoutouts, announcements, and other usual running business by next week.  But this week feels like the pause and the deep breath before we plunge into those busy, last two months of the school year and our running calendar.  So as we reach the end of break and travels, and many of us celebrate religious and cultural holidays today, in the next week, and over the course of the month, let me wish you Happy Easter, Chag Pesach Sameach, and Ramadan Mubarak!  And whether or not you are celebrating a holiday, I hope you have a beautiful and relaxing end to this long weekend.  I'm so excited to launch into all the fun weeks ahead with you all!
xx Micki
ROUTES
Monday, 18 April – Bonus Route:  the Bunny Hop (5 miles)
RunGo:https://routes.rungoapp.com/route/OEUCJrfC8u
Get your bunny ears on and get ready for the Bunny Hop run! Head to Hyde Park the usual way via Lisson Grove and Seymour Place.  Once in the park start your hop…aka zig zag your way up and down the park and down to the Serpentine.  Run along the north side of the Serpentine to the bridge and hop on over it, turn to your left and exit the park at Hyde Park Corner.  Hop on over to Green Park and make your way to Green Park tube. 🐰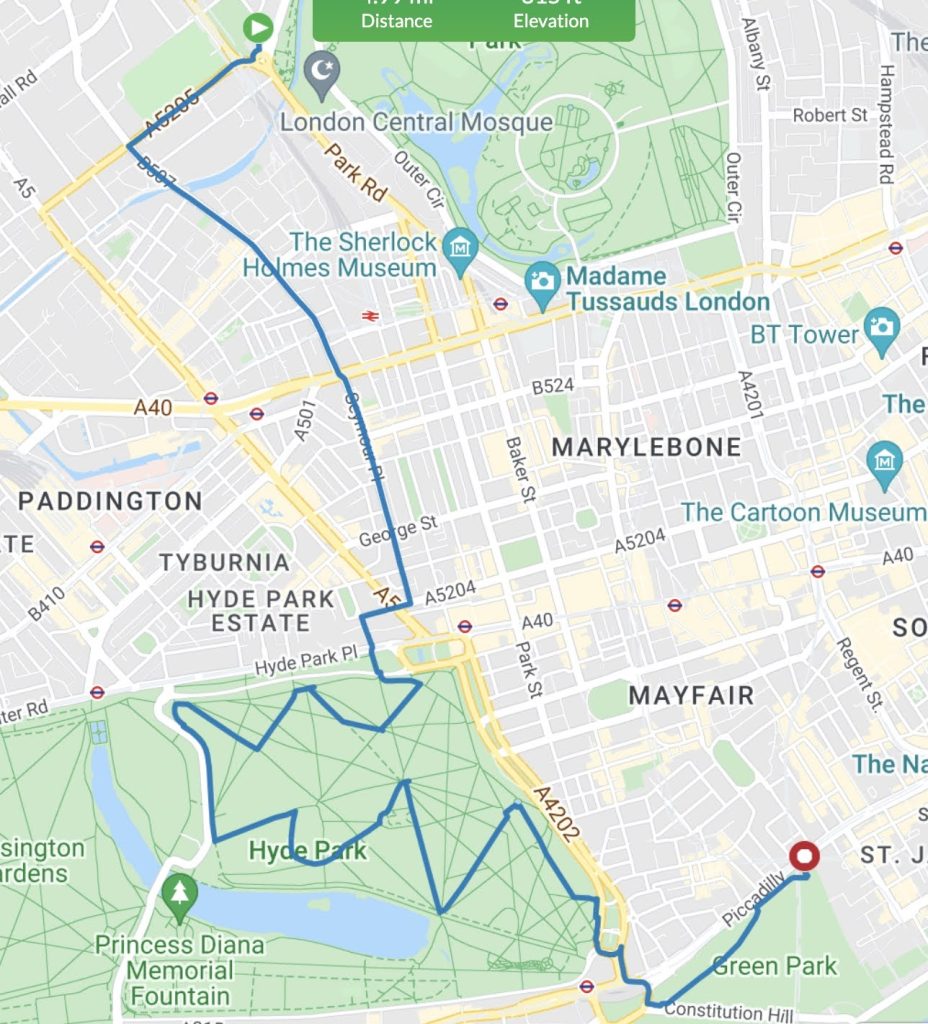 Wednesday, 20 April – Notting Hill Pastel Houses (6+ miles)
RunGo:  https://routes.rungoapp.com/route/b9KVZnqmxp
From the top of Church Gardens, run down Wellington Rd and right onto St John's Wood Road, passing Lord's Cricket Ground on your right and the LJS Synagogue on your left. Turn left on Cunningham then right on Aberdeen to work your way to Blomfield Rd. Run along the street sidewalk until you turn left to cross the Westbourne Terrace Road bridge. Turn right after the bridge, follow the sidewalk along Delamere Terrace, then join the canal path heading west at this point.
Run to the Ladbroke Grove exit then run down Ladbroke Grove to Elgin Crescent and turn right. Keep an eye out for lovely pastel houses here!  Turn left at the next road – Rosmead – then your first left on Lansdowne.  Continue straight across Ladbroke Grove on Arundel Gardens and take the first right onto Kensington Park Rd then take a left at Westbourne Grove. Run down Westbourne Grove to the top of Bishop's Bridge, then left down the steps into Sheldon Square (across from the Paddington Station entrance). Stay along the canal to where you entered, going across the canal on the pedestrian bridge at Westbourne Terrace curving back around to run back on Blomfield to SJW.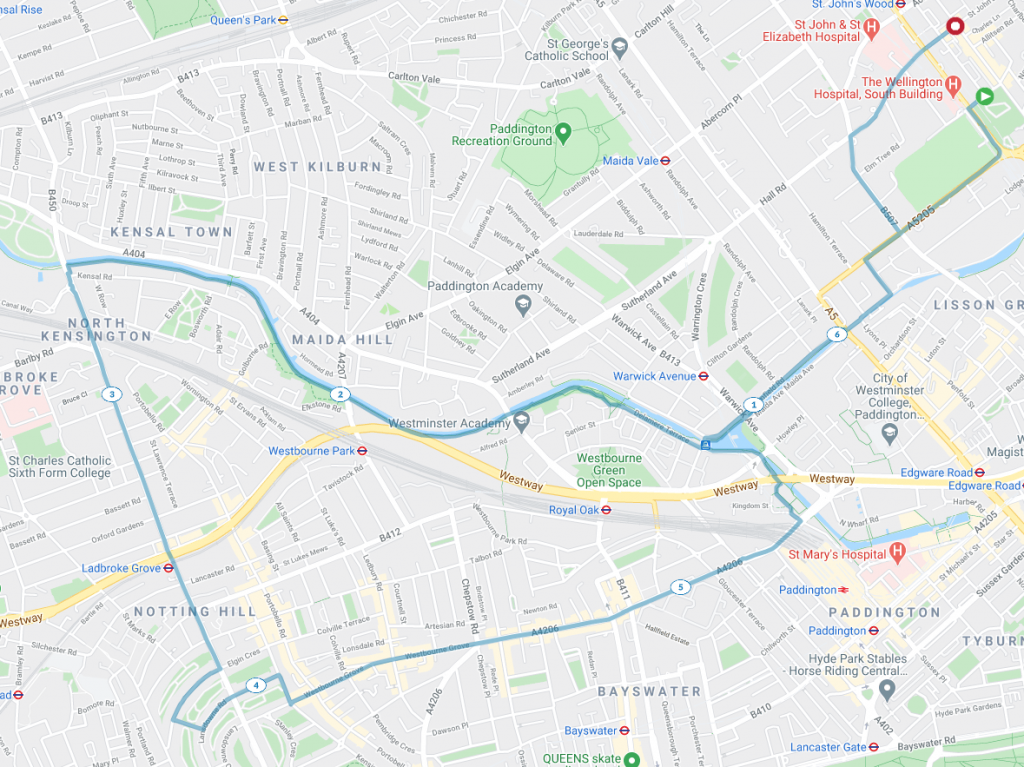 Friday, 22 April – Heath 🌍 Earth Day Run – Hug a Tree 🌳 Photo (5-8 miles)
It's a Friday Heath run with a twist.  In honour of Earth Day we want you to give the beautiful trees of the Heath some love, and send us photos of your best tree hugs!  So pick your destination and find your favourite 🌳 to hug!
<4 miles:  A great way to ease into running the hill. Run up to the Hampstead tube station and back. If you have trouble running up, think about how easy it will be running down!
5 miles: The Betsy Route
6+ miles:  The partial Heath route OR the Reverse Heath route OR Pergola route
7.5 miles: The Highgate route
8 miles:  The full Heath route
Click here for maps of all of the Heath routes.