Here are some ideas to keep running during this strange time. Let us know if you have others!
City of London Run – 8.7 miles
This run takes you along the Holborn Viaduct in the City of London.
Things to find:
Holborn Viaduct red bridge with statues and staircases
St Sepulchre's Church and London's first drinking fountain
Christchurch tower and the Christchurch Greyfriars church Garden
Angels in the sky
St Paul's Cathedral
St Lawrence and Mary Magdalene drinking fountain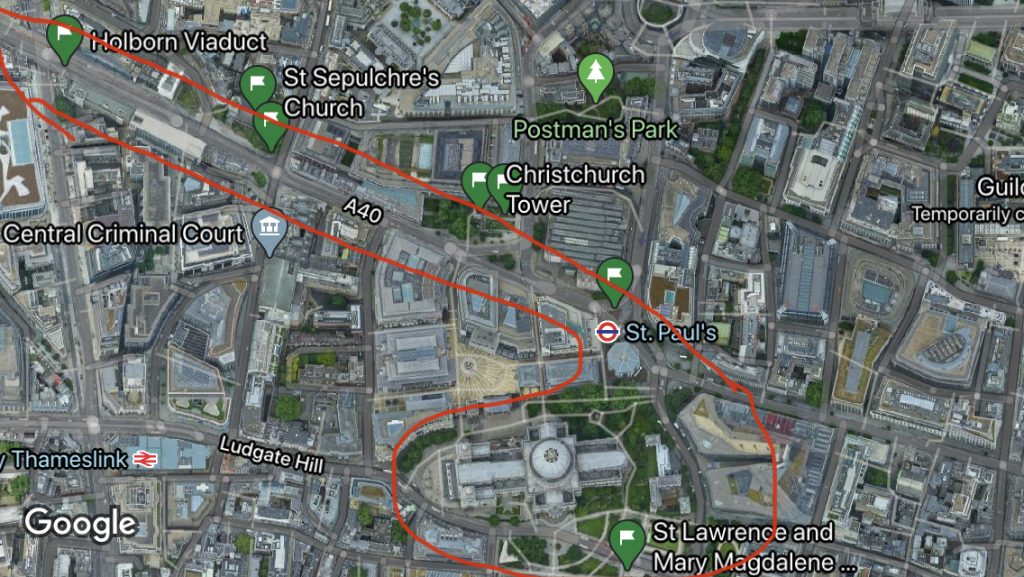 The route from Barclays takes you past other iconic buildings as well.

Starting at Barclays, run down Wellington Road and turn left into Regents Park at the mosque. Turn right and stay on the Outer Circle until you reach the southeastern corner at Park Square. Turn right, cross Marylebone Rd and turn left to run about a block. Shortly after the Great Portland St tube, turn right onto Cleveland Street. At the end, turn left onto Mortimer Street and when it ends, turn right onto Tottenham Court Rd.

Make the 4th left onto Great Russell Street and run past the British Museum on your left and then Bloomsbury Square Garden (London's oldest square, laid out in 1665!) on your right. Then take a right on Southhampton and a left on High Holborn. This road becomes the Holborn Viaduct so start looking around you!

You'll run about a mile on this road before bearing right at St. Paul's tube station to go around St. Paul's. Turn right on St. Paul's Churchyard (make sure to find the St. Lawrence and Mary Magdalene drinking fountain) and continue straight onto Fleet Street. Keep an eye out for St. Bride's church on your left. Its steeple is supposedly the influence for the tiered wedding cake. Take a little detour at Wine Office Ct on the right to go past Ye Olde Cheshire Cheese (the first pub to reopen after the Great Fire) then turn left and pay a visit to Hodge the Cat, Samuel Johnson's pet. Turn right at Johnson's house, then a left and quick left to take Red Lion Ct back to Fleet St.

Fleet Street becomes the Strand. At St. Clement Church (designed by Wren and affiliated with the Royal Air Force), bear right at the fork and then turn right onto Drury Lane. Continue past High Holborn Street and turn left on Oxford Street and then right on Bloomsbury. Run all the way up Bloomsbury to Marylebone Rd. Cross Marylebone and turn left. After passing the Warren St and Great Portland St stations, you will see Park St on your right. Turn here to get to Regents Park and back home.
You can get turn-by-turn directions using the app Run Go and this link: https://routes.rungoapp.com/route/Io2KooAvOW
NHS Street Art – Brick Lane – 6.8 miles one way
This is a slight variation on our regular Brick Lane route – it adds a few stops to see some NHS/Covid art (subject to change of course – this is street art after all!)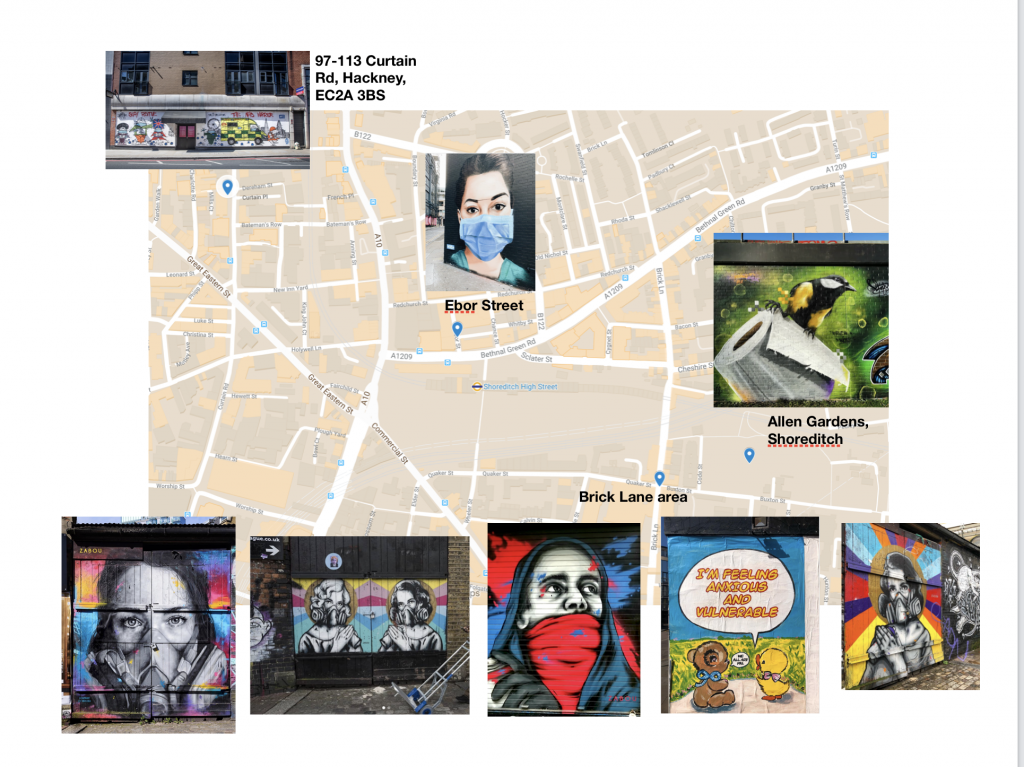 Start out the normal way towards Camden on the canal. You may need to go across the bridge to the right at Camden Market and turn left to go over the canal and then immediate left to get back down to the canal path. Continue to The Wall and exit the canal up the ramp to Muriel Street. Cross the street and enter the path between the gates (Jubilee medallion on the sidewalk).
Keep going straight on the path and it will become Maygood Street. When you get to the intersection of a main road (Barnsbury Road) turn right. Run until you make the second left onto Chapel Market. (There is a metal archway saying Chapel Market and a zebra crossing at the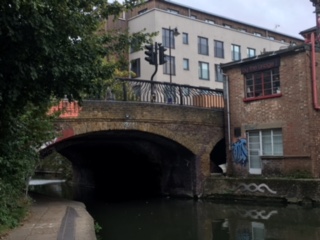 intersection.) Follow Chapel Market until the end. Turn right at Liverpool Street to the major road Upper Street. Cross Upper Street and turn left, then make your first right at Duncan Street. Follow Duncan Street to the end and there will be an entrance to the canal directly in front of you. At the canal path continue running straight, the water will be on your right. Follow the canal until you reach the Kingsland Road Bridge, Number 45. See the photo right.
At the top of the stairs turn left and at the main road, Kingsland Road, turn left.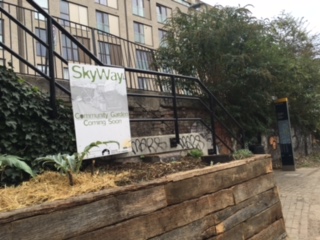 Run under the bridge and take the brick steps up on your left, see photo left.(You'll be running back over the canal.) Follow Kingsland Road, you'll see the Gherkin building in the distance in front of you. (Kingsland Road will become Shoreditch High Street.) Turn right at Rivington St and then left on Curtain Rd. You should see a mural at 97-113 Curtain. Turn left onto Bateman's Row to return to Shoreditch High Street. Continue right on Shoreditch High Street and turn left at Bethnal Green Road. There will be a white metal railroad bridge in front of you and the BOXPARK market will be on your right once you turn. You'll also pass the Shoreditch High Street Overground Station on your right. Make your first left onto Ebor Street to find another mural. Turn right onto Redchurch St and follow it to the end when it merges with Bethnal Green Road. Take the next right onto Brick Lane. Beigel Bake will be on your left. You can stop here or continue down Brick Lane to Buxton Street, looking out for any murals. Turn left onto Buxton and you'll be at Allen Gardens in a block, another home of a mural.
https://routes.rungoapp.com/route/u8VBHH8dru
Holland Park/Notting Hill Sights – 9 mi
Here's a loop that will take you by some sights in Holland Park and Notting Hill. Let us know other sights along the route and we'll add them in!
Start out the usual way to Hyde Park – Circus to Grove End/Lisson Grove, cross Marylebone Road to Seymour Place. At the end, turn right, cross Edgware Rd and turn left on Stanhope. Cross over into Hyde Park and turn right at the silver orb and head to the Italian Gardens. Turn left just past the gardens and take the second path from the left so you are not running right along the gardens/water. This path will take you diagonally to the south west of the park. You're heading towards Kensington High Street so make your way to the corner and head out, turning right onto Kensington High Street.
Run along the high street until you pass Holland Park. Turn right onto Holland Green Pl, left onto Melbury Ct and right on Melbury Rd. Make a right onto Abbotsbury Rd, left on Oakwood Ct and finally a right on Addison Road. At 8 Addison, you will see Debenham House, a fantastic Arts and Crafts house clad in green and blue tiled bricks.
Continue along Addison Road and turn right on Holland Park Ave. Run past Ladbroke Grove and a few streets later, turn right onto Campden Hill Rd. Make the first left on Uxbridge and first right on Farm Place. Turn left on Hillgate Place and look at the colourful houses. You can run up and down Callcott and Hill Streets as well if you'd like. Turn left on Farmer St, cross over Holland Park Ave and bear left on Kensington Park Road. Turn right at Chepstow Villas and left on Portobello Road. Keep an eye out for more colourful houses, especially on the right on Denbigh Terrace. After about half a mile, turn right onto Westbourne Park Road, but as you do, take a moment to look to the left to see the Blue Door from the film Notting Hill at 282 Westbourne Park Road.
Continue down Westbourne Park Road for 0.6 miles. As it starts to curve right, stay straight onto Westbourne Park Villas and look to the left for the Westbourne Park passage that will take you over the train tracks and under the Westway. At the end of the passageway, turn right on Alfred Rd and left on Harrow Rd. You should see an entrance to the canal on your right pretty quickly. Take that and head back to SJW the usual way via Blomfield Rd through Little Venice, across Maida Vale, to Aberdeen, then to St. John's Wood Road and back to Grove End/Lisson Grove and Circus Rd.