Hello Runners!
Big kudos to all of us for starting the year strong!  I know for many of us, myself included, it wasn't easy getting back out on those runs after all the luxuries of a long holiday– but we did it!  No doubt all the pent-up chatting we had to catch up on helped us get through the miles!  It was great to see everyone again, and our efforts this week will pay off in weeks to come.  

Running this week.  Monday we're headed to Sloane Square and on down to Embankment, then along the Thames to Westminster (6.33 miles) or Green Park (7+ miles).  Wednesday we will begin some tempo training– shorter runs at a quicker pace– to help prepare for the half marathon.  We'll run to the Regent's Park Charlbert entrance the usual way and along the outer circle until we've warmed up, and then we pick up the pace for two miles before cooling down and heading back to SJW for coffee.  Specific directions and target pace ranges can be found in the description below, and if you don't feel ready for tempo work, you can substitute the Inner/Outer Circle route.  Friday we're headed to Whole Foods via Green Park (or mix it up and try the Kensington Dishoom just around the corner!).  This is a newer route that people really enjoyed when we trialed it, so give it a chance if you're up for the extra miles (remember there's no Hill in this one!).  But if you're not there yet, no worries– there are suggestions in the writeup below for how to take the mileage down if you're not up for 8 on a Friday.
Training notes.  We have 11 training weeks until our half marathon in Prague– including the week of February break.  That's plenty of time to prepare ourselves with either the standard training program (below) or the gradual training program (the full program can be found there as well, but it's not calibrated to this year's race date).  Believe it or not, the distances on our Monday long runs do not differ greatly between the two plans.  The routes on our schedule tend to follow the standard plan, but we try to offer options at least in January to make it possible to cut a mile off the distance if you prefer.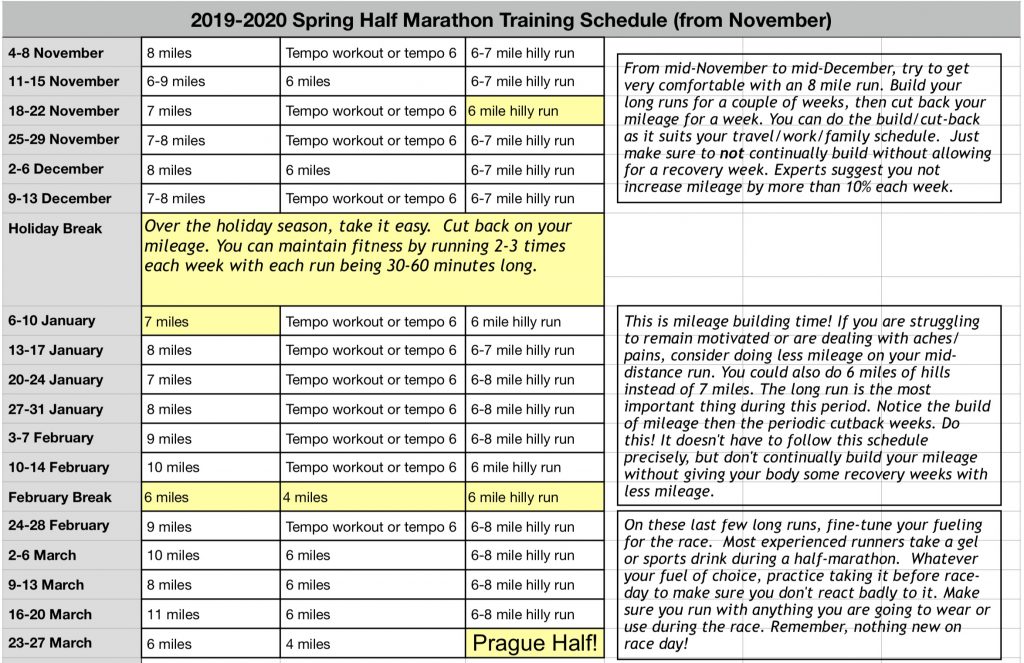 For anyone who hasn't seen it yet, here is a brief overview of how our weekly schedule works. We do three scheduled runs per week:
Mondays are a long, slow run.  Of the three runs each week, this is the most important for building endurance toward the race.  This is the one not to miss!  But even if you do have to miss a Monday, try to make sure you get that long, slow run in every week from now to the race.  And by slow, we mean comfortable and conversational– about 60- to 90- seconds slower per mile than your goal race pace.  Paula Mitchell, our founder, explains the compelling reasons for slowing down on the long run here.  In a ridiculously oversimplified nutshell, long, slow runs are what triggers your body to produce mitochondria, which is the ignition tool for fueling our runs most efficiently.  If we don't slow down, we miss out on that benefit.
Wednesdays are a mid-distance run with tempo and speed training options.  The tempo runs are important for anyone trying to get faster.  If you have a goal time, tempo training will help you achieve it, and many runners enjoy the challenge and bonding of going through tempo and speed workouts together.  But it is perfectly okay to opt for mid-distance (4- to 6-mile) runs instead!  Or split the difference and do the mid-distance and occasionally pick up the pace for some stretches of the run.
Fridays we generally do a hilly run.  Hills are fun!  And good for overall fitness.  Sometimes we mix it up and do a flat run, especially if we've done some hill work in our other runs for the week, or have a hill coming up on the following Monday.
Finally, after all that, I have to say it– remember that WRW is really just a group of friends who like to run together. We have a lot of experience in the group, and our training program is designed by a very experienced runner, but we are not professionals. We can offer general wisdom about training, but it's crucial that if something is bothering you, little or big, you should seek out professional advice from an expert. We have some resources listed on our website, or you can always ask around and many of your fellow runners can recommend local experts. 
Shoutouts and Announcements.  The big shoutout this week goes to Miki Neant, who ran the Country to Capital Ultra marathon Saturday, covering 43 miles to finish in Little Venice with a great time and a big smile on her face!  The photo of her in the collage above was snapped no more than five minutes after her finish– and she looks amazing!  We are so proud of the ultra accomplishments she has taken on in the last few months!
If you are going to Prague, look for more communications soon about tours, meals, and other bits of planning.  Please try to respond promptly to any info requests– you've been great about that so far!  Carolyn and her team are creating another amazing itinerary for us, and we'd love to make it as smooth as we can for them.

Save the dates.  We are still tweaking our schedule a bit for the spring, but here is a look forward at the main dates for long and/or destination runs up until the half marathon.
Monday, 20 February – Holland Park to Green Park (8 miles), with coffee at "The Office" in Joe and the Juice (hat-tip to Beginner Class of 2019!!)
Monday, 27 February – 9-mile local loop route through parks (so flexible miles)
Monday, 10 February – Stratford (9 miles)
Tuesday, 11 February – WRW Kit pickup and race payment date!
Monday, 17 Feb – Friday, 21 Feb – February break for ASL, no official running schedule
Monday, 24 February – Canary Wharf (9.3 miles)
Monday, 2 March – Canada Water (10 miles)
Monday, 16 March – Kew Gardens (11 miles)

Thanks for bearing with me through all the information this week– and the late delivery as I pulled it together.  There's more to come with training notes, but I'll try not to let the e-mails get any longer than this…  Meanwhile, it's going to be a great week, and I am so excited to start this part of our training journey together!  See you at Barclay's!
xx Micki

ROUTES
Monday, 13 January: Sloane Square/Embankment/Westminster/Green Park – from 3.75 to 10 miles
Everybody starts out to Hyde Park, taking the usual route. Once inside the park, turn left and run down towards the southern edge, following the path to the right before it leaves the Park. Run to the large gated exit (Albert Gate) before the tall 'One Hyde Park' complex, cross Knightsbridge and turn right on Knightsbridge, then a left onto Sloane Street after Harvey Nichols. Follow Sloane St until it ends at Sloane Square.
Mileage options:3.75 miles: take the Tube home at Sloane Sq.
6.33 miles: continue past Sloane Sq down Lower Sloane St/Chelsea Bridge Road to the Thames. Turn left on the Thames side of Grosvenor Rd and run along the embankment to Westminster Tube.
7+ miles: continue left on Birdcage Walk, cutting through St James Park to the Mall, then left on the Mall towards Buckingham Palace, crossing before the circle to reach Green Park. Run up to the Green Park Tube on Piccadilly St and head home.
10 miles: continue north after Green Park, through Mayfair, Marylebone and Regents Park to SJW – this will give you about 10 miles.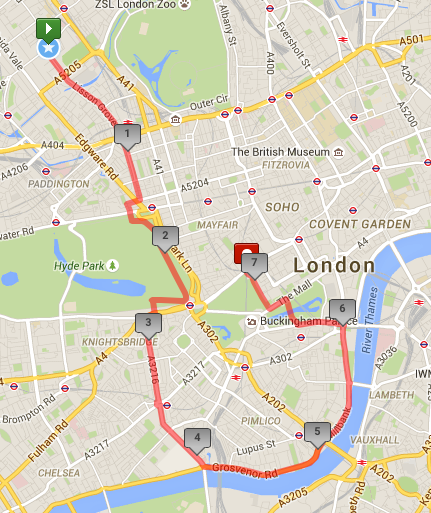 Wednesday, 15 January – 2 mile tempo run at sub race pace; 1 mile warm up/cool down
Head to the outer circle of Regent's Park, taking the normal way to the Charlbert entrance. Turn right to pass the US Ambassador's house (Winfield House) and continue past the mosque to York Bridge (this is where we sometimes turn left to run the inner circle). At this point pick up your pace, as the "tempo" part of the run begins (see guidance below). Stay on the Outer Circle and keep a sub-race pace back to the Charlbert entrance area (push yourself just past it to the second driveway of the Ambassador's house for the full 2 miles). Ease into the wide entrance area and have a little recovery jog until your group is all gathered again. Consider a nice and easy cool-down just inside the park, then take an easy pace back to the St Johns Wood High Street for stretching, followed by coffee.
Note that the tempo part of this run should be sub-race pace. Remember this is 2 miles, not 13, so it should be faster than race pace.  Everyone should be aiming for about 30 seconds faster than your race pace. If you are not sure of your race pace, this might be an opportunity to begin to gauge it. Below are suggested times, but these are just general guidelines. Please adjust if these are too fast or too slow!

For the 8's – 7:45-8:00 per mile
For the 9's – 8:45 per mile
For the 10's – 9:55 per mile
For the 11's – 10:55 per mile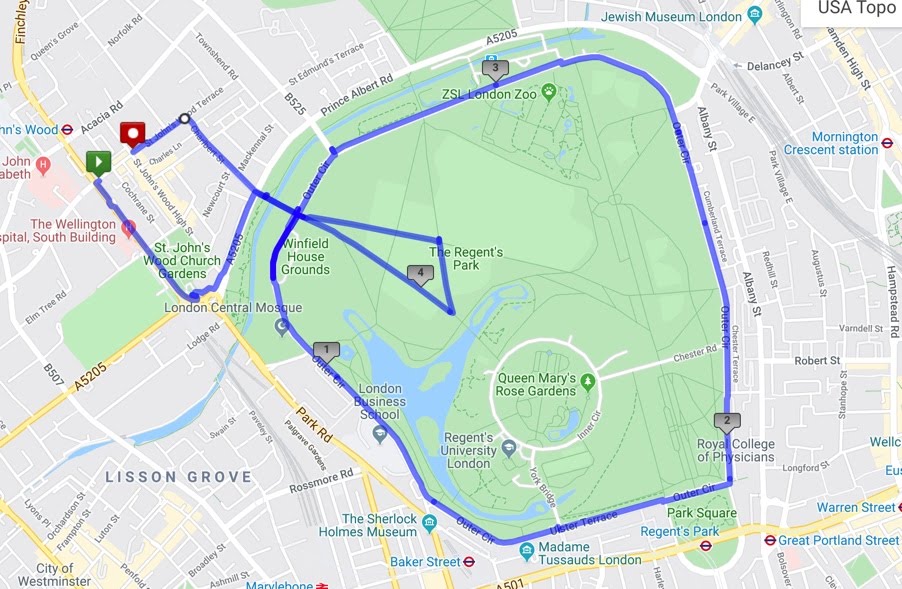 Friday, 17 January – Royal Parks Loop to Whole Foods – 8.2 miles

This is an extended route to Whole Foods in Kensington. Quick route summary: Run to Hyde Park, past the Italian Gardens and the Serpentine to Wellington Arch, loop around Green Park and St James Park, and then back inside the southern edge of Hyde Park to end up at Whole Foods.

Run to Hyde Park the usual way. Turn right at the silver sphere after entering Hyde Park. Cross over N Carriage Rd and turn left just after the Italian Gardens. Run along the Long Water/Serpentine, with the water to your left. At the end of the Serpentine bear right then left to run along the southern edge of the park. Cross Hyde Park Corner, through Wellington Arch, then left inside Green Park to run along the northern side of the park. Turn right at Green Park Station, then left at The Mall, to do a full circuit around the perimeter of St James Park and end up back at Buckingham Palace. Cross in front of the Palace and turn left to head back to Hyde Park Corner. Re-enter Hyde Park and run along the southern border of the park, all the way through Hyde Park, past the Albert Memorial and along the edge of Kensington Gardens. Exit the park at the Broad Walk gate, turn right to Kensington High Street and Whole Foods will be up the road on your left.  Dishoom is just around the corner after the Whole Foods entrance, on Derry Street.