Good Morning, Runners!
Here we are at race week already– how did that happen? We had some wind and mud to deal with this week on our run to Kew, but Monday was a beautiful day for running 11 miles! Hope you all enjoyed it! And HUGE congratulations to our Beginners group, who also did their Kew run on Thursday (in nastier weather than we had). This is an amazing achievement for women who were never runners before September! Immense credit to Beginner Coaches Amy Grace, Megan Marine, Melissa Kay, Jess Browne and Vicki Renner– you have been SO generous and wonderful to help these 20 women to reach this goal.

For those running the half marathon, this is an easy running week. We're letting our bodies rest and recover, and we're storing up energy to set loose next Sunday in Milan. For those not running the half marathon, the good news is that we're finally going to do this and then things can get back to "normal!" Monday we will run a 6 mile loop in Hyde Park– please check the route directions below, as it's shorter than our usual Hyde Park routes. Wednesday we will do a 5 mile run to Camden and Mornington Crescent, and back through Regent's Park. And Friday… many of us will depart for Milan! If you will be in London, communicate with any in your groups who are not doing the half, and you can head up the hill, or choose your own fun destination! The next weekly e-mail will come out on Tuesday, March 26, after we return from Milan. For those in town on Monday, please meet up as on Friday and choose routes together.

Remember that Monday morning after our run (around 9:45), a group of us will head to Pret to hold an info/Q and A session for anyone who hasn't run a half marathon before. We will do our best to answer questions and offer whatever experience we can share. Please join us if interested! You should have received a lengthy e-mail with an attachment this week if you are running the half marathon. This includes everything you need to know for next weekend, so please do reach out if you haven't received it.
That's it for now, believe it or not. Enjoy the sunshine this morning!
xx Micki

ROUTES
Monday 18 March – Hyde Park 6 miles
It's race week so the run in Hyde Park is a shorter loop than previous runs.
We start from Barclays and run down Circus Road and turn left on Grove End/ Lisson Grove. Cross diagonally at the light to be on the west side of the street. Cross over Marylebone Rd (now you're on Seymour Pl) and run until the road ends. Turn right on Seymour St, cross Edgware Rd, and turn left at the next street (Stanhope Pl). Cross into Hyde Park, cross over the Carriage Rd and you're ready to go.
Upon entering the park, you turn right at the silver sphere. Cross over N Carriage Rd and turn left just after the Italian Gardens. Run along the Serpentine, past the gardens, swimming pond and cafe. Turn left at the end of the Serpentine, over the bridge at the cafe. Take the diagonal path off to your right across the park and head back up along the eastern edge of the park before exiting at the Upper Brook St/Animals of War exit. After crossing Park Lane proceed straight to the next light and turn left at Park Street. Head straight up this street all the way back to St John's Wood.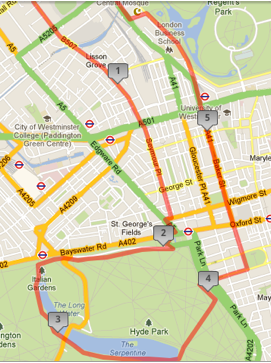 Wednesday 20 March – Camden Lock/Mornington Crescent/Regent's Park (5 miles) We have adjusted this route to keep to the less travelled and less polluted streets. Head to the canal going eastbound to Camden Lock, where we cross the small, cobblestone bridge, exit the canal and turn right onto Camden High Street. Take the first right turn onto Jamestown Road and then the first left onto Arlington Road. Run straight down Arlington Road, make a slight right onto Mornington Crescent, follow it around and turn right onto Hampstead Road. At the first intersection, turn left onto Granby Terrace and the second left onto Stanhope Street. Continue down Stanhope until we reach Trinton Square. Turn right and run between the office buildings at Regent's Place, past the nice fountains, to the end of Trinton Street. Use the pedestrian crossings to cross Osnaburgh Street and Albany Street. Head left to the intersection of Euston Road, where you take a right and run briefly along Euston Road. At Park Square East, turn right through the gates towards Regent's Park. We enter the park at the Outer Circle intersection and stay on the path on the far right (east side) of the park, cross the Broad Walk at the ornamental fountain and head along the path with the Zoo to our right. Turn left onto the Outer Circle, past the Avenue Road exit, and right at the second exit (where we usually enter for the canal or park). Run up Charlbert Street to St John's Wood Terrace, make a left, and head back to Starbucks.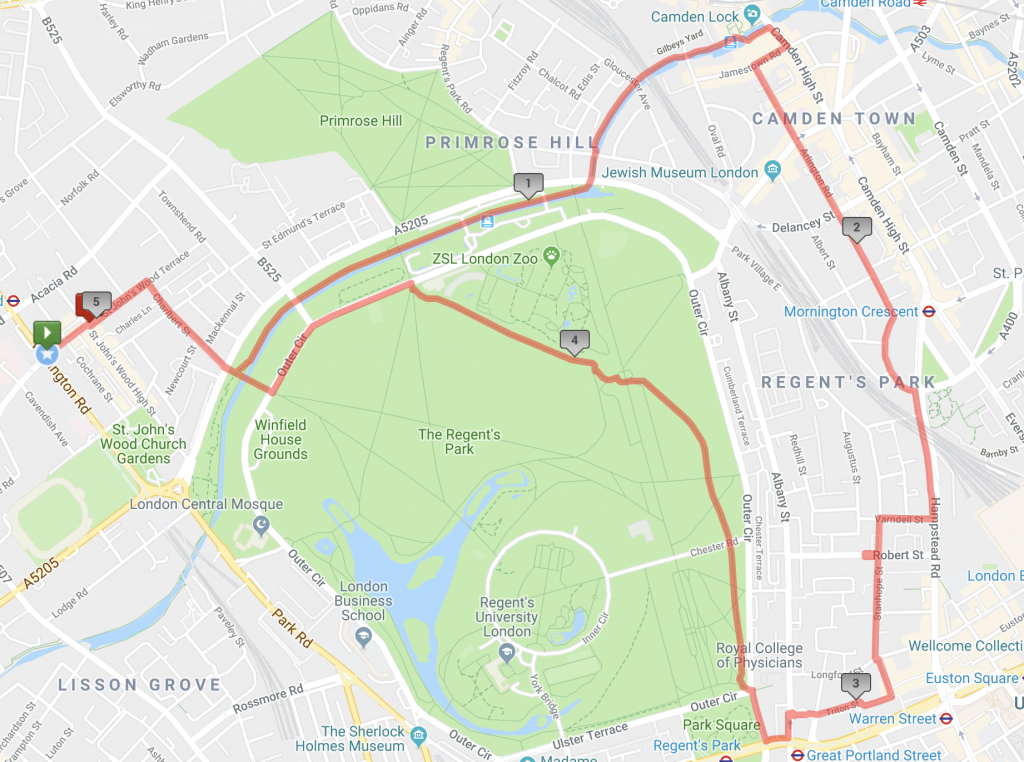 Friday 22 March – We leave for Milan!
All others – up the hill or whatever you would like.