Hi Everyone,
We have two unique runs planned this week where we're doing something different so please read the email below. Should be very fun, hope you can join us!
Monday – Wembley Central IN REVERSE
On Monday we'll plan to meet at Barclays as normal, but then we're going to run to the Maida Vale station and take the Bakerloo line to the Wembley Central station. (You may want to stretch again on the train.) We'll take a minute at the Wembley Central station to get organised into our pace groups and then we follow the canal back to St. John's Wood. There are a few benefits of doing the route in reverse. We miss a lot of the bike traffic on the canal and we end at home so we don't have to take a cold tube ride back. In addition, if you find that you are struggling near the end of the run, you'll be in familiar territory and could always walk a bit. If you're not sure if you want to tackle 8 miles, it's 6.5 miles to the canal exit in Little Venice so you could easily walk to town/home from there. If you tackle the entire route, you'll have Starbucks waiting as a reward!
Wednesday – Christmas Lights, 6:00am start
Why get up so early? It really is quite spectacular to see the Christmas lights at night and without the crowds. The picture at the top of the email is from the run last year. For those who are interested, meet at Barclays at 6:00am. When we're waiting at Barclays and when we run by the houses in town, be VERY QUIET. No talking or only whispers. Our group is very loud and we don't want to wake up the entire neighbourhood at that early hour! It's 4.4 miles to Bond Street station and 5.3 miles to Baker Street. (Last year I took the tube from Bond Street and was home around 7:15.) Everyone should look at the map because the group usually gets divided as different groups stop for pictures. If you're planning to run at 6:00am please wear bright or reflective clothing and maybe even carry a bike light or head lamp if you have one. And be extra careful of the cars!
If you're not up for an early morning run, they'll be a group that meets at the regular time on Wednesday. You can decide to do the Christmas Lights route at that time, or you can do the regularly planned Wednesday route of The Wall or another route of your choice.
THANK YOU to Starbucks

The holiday time of year is here and we'll be organising a gift for the employees at our local St. John's Wood Starbucks. We're suggesting a £5-10 donation, but feel free to give whatever you would like. We'll also be donating some home-baked goodies and Gisele has agreed to be the coordinator of the baked goods. Give your donation (in an envelope with your name) to me before Tuesday 12 December. Please email Gisele at
[email protected]
if you would like to contribute baked treats. We'll gather the baked goods on Tuesday 12 December and we'll give the gift to Starbucks on Wednesday 13 December before the run. Please get your gift to us soon if you would like to participate.
Utrecht Hotel – LAST CHANCE
If you would like to join the group for the half marathon race in Utrecht, please book your hotel now. The hotel is filling up and we don't want you to miss out. If there is any chance that you might attend, please book your room now. We have a generous cancellation policy so you can cancel later if your plans change. You must book a room using the hotel booking page for our group: 
https://www.nh-hotels.com/event/women-running-the-world
. If you have any issues with the hotel website or booking a room please email Carolyn Perelmuter at
[email protected]
. Also, if you are going to Utrecht, please send your flight information and roommate name (if you have one) to Sue Wheeler at
[email protected]
. Thanks so much!
Keep running,
Jane
Monday 4 December – 
Wembley Central to SJW (IN REVERSE) 8 miles
This week we are reversing our long run by starting at Wembley Central and running back back along the canal to St. John's Wood. We are going to take the tube from Maida Vale out to Wembley Central station so meet at Barclays at the usual time for the short run over to the station.
Part 1 – Run to Maida Vale tube station
Take Circus Road/Hall Road to Hamilton Terrace. Turn right on Hamilton Terrace and then left on Abercorn Place and cross Maida Vale. The tube station is ahead of you on the left. We're taking the Bakerloo Line to Wembley Central station.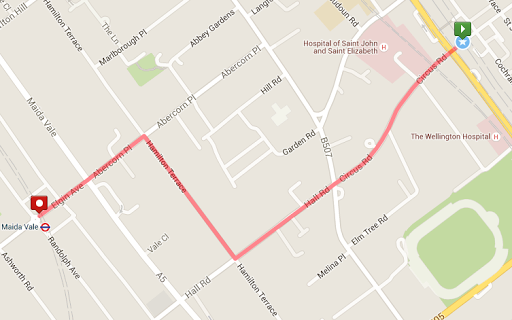 Part 2 – Wembley Central station to St. John's Wood
Out of the station, turn left on the High Street and then take your first left on to Ealing Road. Follow Ealing Road (past the Alperton station) to the T- junction and turn left. You'll cross over the canal bridge and see the entrance to the canal path on your left. There is a 243 Ealing Road sign for new apartments at the entrance to the canal (see photo below.) We'll follow the canal back home and then exit the canal off Bloomfield Road in Maida Vale and run back the usual way to Starbucks.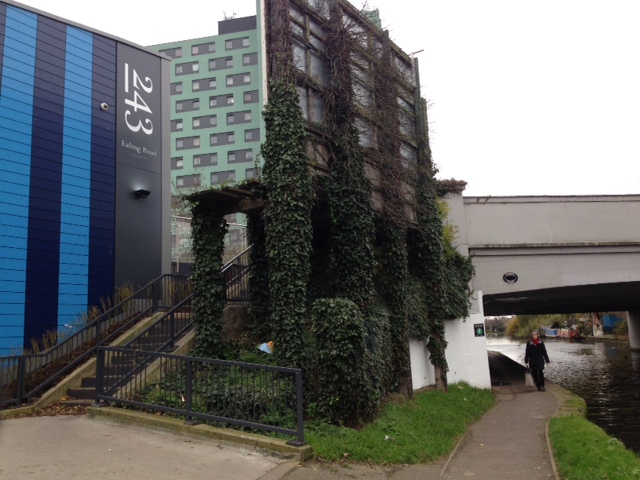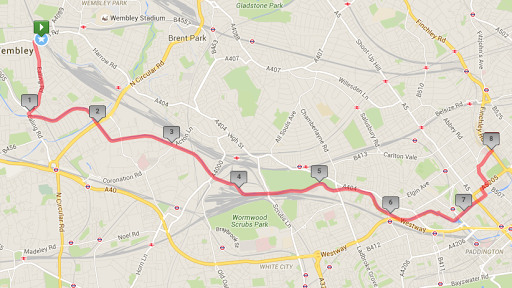 Wednesday 6 December
Option One (6:00 am start) – London Holiday Lights (4-6 miles)
The first part of the route we run through Regents Park. Head out St John's Wood Terrace, right on Charlbert and enter Regents Park. Turn right at the Outer Circle and follow the outer edge of the circle until we exit at York Gate. [Note we are running by residences in Regents Park so try not to talk—our conversations echo in the early morning calm!] Cross Marylebone Road, running through the Marylebone Church courtyard and follow Marylebone High Street down until you turn right on George Street, then left on Spanish Place to Manchester Square (past the Wallace Collection) then right on Fitzhardinge Street, left on Orchard Street until you reach Oxford Street.
Turn left on Oxford Street and continue until you reach Regents Street and turn right. Follow Regents Street to Great Marlborough Street, take a left, go past Liberty and then take a right on Carnaby Street.  Follow Carnaby to its end at Beak Street, right on Beak then left on Regents Street, all the way into Piccadilly Circus.  Turn right on Piccadilly Street and then right on Old Bond Street. Follow Old Bond which turns into New Bond back up to Brook Street. Turn left then right onto South Molton Street up to Oxford Street.  You can stop at the Bond Street Station (4.4 miles) or continue up Gee's Court (a tiny alley street diagonally across from Bond Street Station) which becomes St. Christopher's Place. Cross Wigmore Street up Marylebone Lane, back up the Marylebone High Street, through the Marylebone Church courtyard to Marylebone Road.
Options:  turn left at Marylebone Road to reach Baker Street Station and you will have run 5.4 miles; alternatively, retrace your steps through Regents Park outer circle back to Starbucks via Allitsen and St Johns Wood Terrace and you will have run 6.5 miles. Latte time!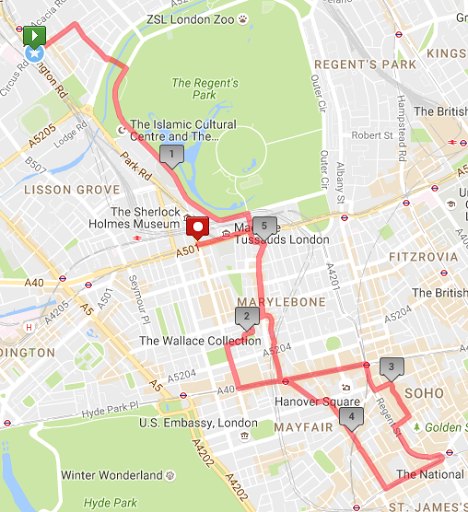 Option Two (normal 8:20 start) – The Wall (3 to 6 miles)
We head down towards Regents Park, then enter the canal at the Charlbert entrance and run east [left] to the entrance to Camden Lock Market where the footpath is now closed.
DIVERSION – Follow the bridge across the canal and turn right on Camden High Street. Take the first left on Hawley Crescent and then left on Kentish Town Road. There is an entrance back to the canal path on the left side of the bridge. When you reach the King's Cross the path now takes you into Granary Square which means you don't have to run on the pontoon walkway for the time being! Continue to follow the canal until you reach the tunnel.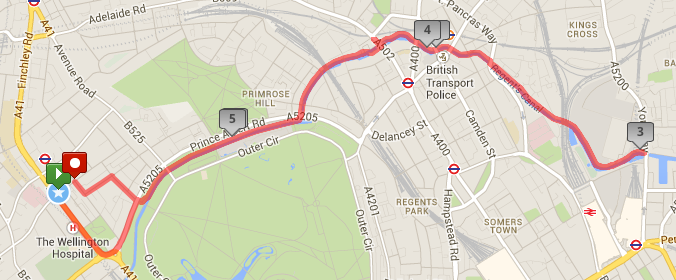 ​
At The Wall at the Islington Tunnel, turn around and head back to St. John's Wood via the same route. This is a great route to do a tempo run because there are no traffic lights.  But please be careful and aware of the bikes on the path. If you run all the way to The Wall and back it is 6 miles. It is also very easy to run half the distance if you would prefer and turn around and head home.  As a marker, if you run to the Camden market (where we have to exit the canal path and run past the food stalls for a minute) and return home it is a 3 mile round trip.
Friday 8 December – The Heath 4-8 miles
It's Friday [again!], so everyone up the hill! You can pick your distance and whatever you choose, there will certainly be someone else interested in running that distance. All of these routes are on the website. If you are not up for a hill run, ask around at Barclays; every week there is a group who prefer to do a flat run and you can decide together which flat route to tackle.
4 miles:  A great way to ease into running the hill. Run up to the Hampstead tube station and back. If you have trouble running up, think about how easy it will be running down!
5 miles: The Betsy Route
6+ miles:  The partial Heath route OR the Reverse Heath route OR Pergola route
7.5 miles: The Highgate route
8 miles:  The full Heath route
Click 
here
 for maps of all of the Heath routes.