Thanks for all the great feedback about our Monday adventure run to Hampton Court Palace. WRW is certainly up for an adventure! There were more than 30 women who did the run to the Palace. We had a beautiful autumn day and it's a stunning route. We'll plan to do this run again in the spring.
Building distance in our training – Monday to Canary Wharf
This week we have another long destination run on the schedule for Monday – Canary Wharf at 9 miles. Please note that the standard training program has a base of 7-8 mile long runs in November-December with a suggestion that you try a 9-10 mile run if you're feeling strong. The gradual training program has a base of 5-6 mile long runs. (Here's the LINK to our training plans if you would like to take a look.) Don't feel like you have to do this run just because it's on the schedule. Take stock in how you are feeling and whether you have tackled some longer runs this fall. Did you run to Hampton Court? How did you feel? If you had a few aches and pains at the end, you may decide to do a shorter option on Monday (you can join the group to the Wall and then turn around and run home instead) and continue to do the 7- and 8-mile runs on the schedule for the rest of November and December. We'll be doing the 9-mile Canary Wharf route again on 6 Feb 2017. If you want to run to Canary Wharf, that's great! Try to arrive early to Barclays and find your group right away so the pace groups can start together.
Wednesday and Friday this week
Since we'll have a group of runners who run to Canary Wharf on Monday, we have a shorter run on the schedule for Wednesday. We suggested a 4-mile Regents Park route. This is to make sure that we don't increase our mileage too much in one week. If you don't run to Canary Wharf, and you'd like to do a longer run on Wednesday you can easily add additional mileage in Regents Park or you can choose a different route of your choice. Friday we're planning for a run to Borough Market. Get your shopping lists ready! As always, if you can't go to Borough Market for any reason, you could always tackle our usual Friday hill run.
Warsaw Hotel Rooms – LAST CHANCE
Thanks for all your patience with the hotel website. The site is up again and we're requesting that if there's any chance you are going on this trip, please book your room now! (You can cancel with no penalty before March.) We heard from the race director that the race registration is going to open very soon, maybe even next week. We're staying at the hotel that is most convenient for the race, so we fully expect that the hotel will sell out quickly once the race registration opens.
We're getting close to booking all the rooms in our original room block. If you go on the site and there are no rooms listed, let us know and we'll get more added. (The hotel doesn't want to give us more rooms until we fully book the original rooms, which is a bit annoying, sorry.) All the details and the links to the hotel booking site are on our website under the "Spring Half Marathon" tab at this LINK. If you have any issues with the room booking, please let us know and we'll help you get it sorted. Remember that after you book to email Jen Skor with your room type and flight information.
A group of friends
A small reminder to everyone that WRW is really just a group of friends who like to run together. We have a lot of knowledge in the group from the experience of running, but none of us (especially me!) are professional experts. We tend to offer general wisdom about training such as it's important to gradually add mileage and it's important to properly stretch. It's crucial that if something is bothering you, little or big, that you seek out professional advice from an expert. Or if you are new to running or new to running longer distances, you may want to see an expert to make sure that you are healthy and OK to tackle this challenge. We have the names of some experts listed on our website.
Keep running,
Jane
ROUTES
Monday, 14 November – Canary Wharf  – (9.3 miles)
Section One – Canal to the Wall
The route starts out as the Wall.  Run along Prince Albert Road to join the canal at Charlbert Street.  Run along the canal for approximately 3 miles until the canal pathway ends at the famous "Wall."
Section Two – Angel Roads
We need to run through the Angel neighbourhood until we can re-enter the canal path.   At the wall follow the ramp up to Muriel Street.  (This is a good place to wait for your pace group.)  Take a right and then an almost immediate left up a path that winds between the apartment buildings.  See the picture below for the entrance to the path.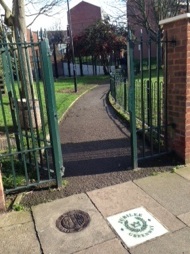 Keep going straight on the path and it will become Maygood Street.  When you get to the intersection of a main road (Barnsbury Road) turn right.  Run until you make the second left onto Chapel Market.  (There is a metal archway saying Chapel Market and a zebra crossing at the intersection.)  Follow Chapel Market until the end.  (NB:  There is a public Ladies Room at the end of White Conduit Street, which intersects with Chapel Market about midway.)  Turn right at Liverpool Street to the major road Upper Street.  Cross Upper Street and turn left.  (NB:  Angel Tube Station is to your right if you are going home from here.)  Make your first right at Duncan Street and follow until the end.  The entrance to the canal path will be directly in front of you.  Go straight along the canal (NOT a sharp right turn.)
Section Three – Canal to Limehouse Basin
We run for about 4 miles following the canal path past Victoria Park to the Limehouse Basin.  We exit the canal path at the wire looking bridge – see picture below – and take the brown brick steps up to the left.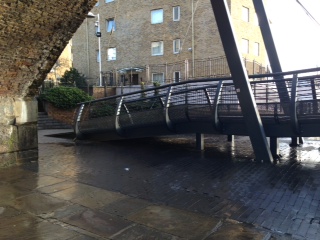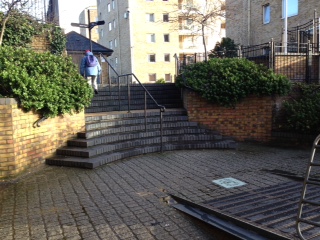 Section Four – Limehouse Basin to Canary Wharf
At the top of the brick steps, go straight.  At the Limehouse Gallery and Bronze Age shop turn right.  Run along the water until you reach the second metal foot-bridge leading to a park.  Cross the bridge and run through the park.  After the park, you'll run straight, under an arch and the water will be on your right.  Run with the water on your right until you see the long flight of steps next to Royal China – see picture below.  You're almost there!  Only a third of a mile remaining!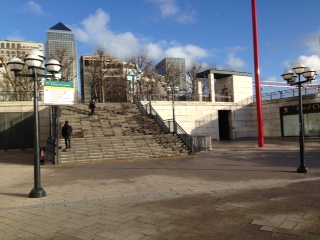 Run up the steps and straight ahead, through the small park to India Drive and then veer slightly right along Cabot Square.  You're heading for the big skyscraper building in front of you.  Stop when you see the sign for the Canary Wharf DLR Station at the 'mall' entrance on the South Colonnade.  We'll meet at the Starbucks inside the building, just right of the entrance.  After a much earned coffee, we'll head to the Canary Wharf Tube station [Jubilee Line] and tube it home to SJW.  Congratulations!
Wednesday 16 November – Regents Park (4 miles)
We are going to ease up a bit and run a familiar local loop after the long run to Canary Wharf.  Head down Grove End Road as though going to Hyde Park BUT at Marylebone Road, turn left and follow Marylebone Road, past Madame Tussauds, then turn left at York Bridge/York Gate and right at the Outer Circle. Follow the Outer Circle counter clockwise, all the way to the crosswalk by the US Ambassador's House. Cross out of the Park and head to Starbucks.
If you want a longer run, you can add another loop on the outer circle the total will be 6.8 miles.  We'll meet you at Starbucks when we're finished!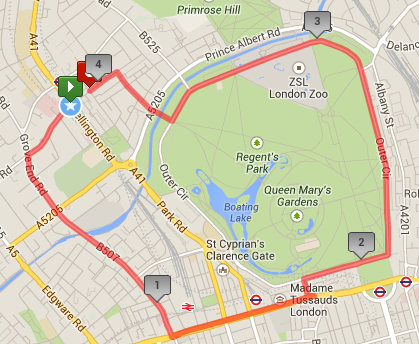 Friday 18 November – Borough Market via Westminster Bridge – 6 miles
We head to Hyde Park via the usual route. Start heading west on Circus Road and turn left on Grove End and follow south as it becomes Lisson Grove.  Cross over Marylebone Road and continue on Seymour Place until the end.  Turn right and cross over Edgware Road and then left to enter Hyde Park at the intersection with Stanhope Place.   Run along the eastern edge of the park to Hyde Park Corner, under Wellington Arch and down Constitution Hill.  Run past the Victoria Memorial down the mall and enter St. James Park.  Run over the pond and out of the park, turning left onto Birdcage Walk and down into Parliament Square to Big Ben.  Continue past Big Ben and cross Westminster Bridge. After the bridge turn left to run along the Thamesuntil the river path ends after Southwark Bridge. Borough Market is under the railway bridge near the London Bridge station. The official address is 8 Southwark Street SE1 1TL.