Hello Runners!
Hope this finds everyone healthy and in good spirits! Such strange times we are living through. The photos you've posted and sent this week have really been uplifting, as we all try to find a new, temporary sense of 'normal.' Lots of new running partners– kids and husbands– and more solo or duo photos, but the really important thing is that the smiles are still there!
We did manage a last group run on Monday before new restrictions were announced, and the beginners did squeeze in a very happy run to Kew together on Tuesday. I know the animation above moves quickly (no way to slow it down– I've searched!), but it's worth a couple of spins through it to see those triumphant faces as they achieved their 11 miles! And with this e-mail, they are officially joining our main group, so a great big WELCOME to the Beginners' class of 2020! In addition to your own awesome moniker: "The Social Distance Runners," you will always be remembered as the group that kept going, no matter that everything else got cancelled along the way!

WRW Global Run MONDAY! Our wonderful founder, Paula Mitchell, reached out with a suggestion for this week– a virtual, worldwide run together (except, you know, NOT together)! The idea is just to get as many of us as possible– from all around the world– out for a run on the same day (but again, solo/duo to respect physical distancing rules). We've chosen this Monday as WRW Runday! If you can get out, even for a few miles, please take a selfie and either post it to the WRW Facebook page or e-mail it to us. Amy will make sure it gets posted to our group Flickr page, and you can view all your WRW campadres around the world as their photos come online at this link! If you are self-isolating, or are in a region where you are not allowed to go out for a run, please send a selfie anyway– we know that you are running in spirit!!
Running this week. Our Routes Team is thinking about all of our best interests, as ever, and we've decided together that we will refrain for now from posting specific routes by day. That's to keep us from all encountering each other and facing the irresistible temptation to run in a big group or do a group selfie. In addition, now that we are not meeting in central SJW or taking public transport back, each of us needs to tailor routes to our home location. BUT… we would never leave you without maps or directions if you need them!! Please check out the extensive collection of routes on our website! And we will still highlight one route that's not on the website each week, just to help keep it all fresh. Thanks to all our routemasters through the years for this collection, and a special award to webmaster Amy Grace for having the foresight earlier this year to invest hours and hours into updating this site and making all the maps so clean and interactive– what would we do without her??

Pace Group Running Challenge. The Perfect 10s have created a fun challenge to help stay connected in our time of solo/duo runs. They have challenged themselves to running 500 collective miles by April 17 (they're killing it– they'll definitely have to up their goal!). Each runner who wants to participate is tracking her mileage by week on a group Google Sheet. The 9s (okay, sometimes known as the Naughty 9s) have joined in with their own sheet now, so it is possible there could be a friendly rivalry stirring up. And another great thing is that our alumni who have stayed connected can also join in. Here's a screen shot (from earlier this week) of the sheet Devy came up with if any other group wants to jump in and create their own! Thanks for the model, Devy!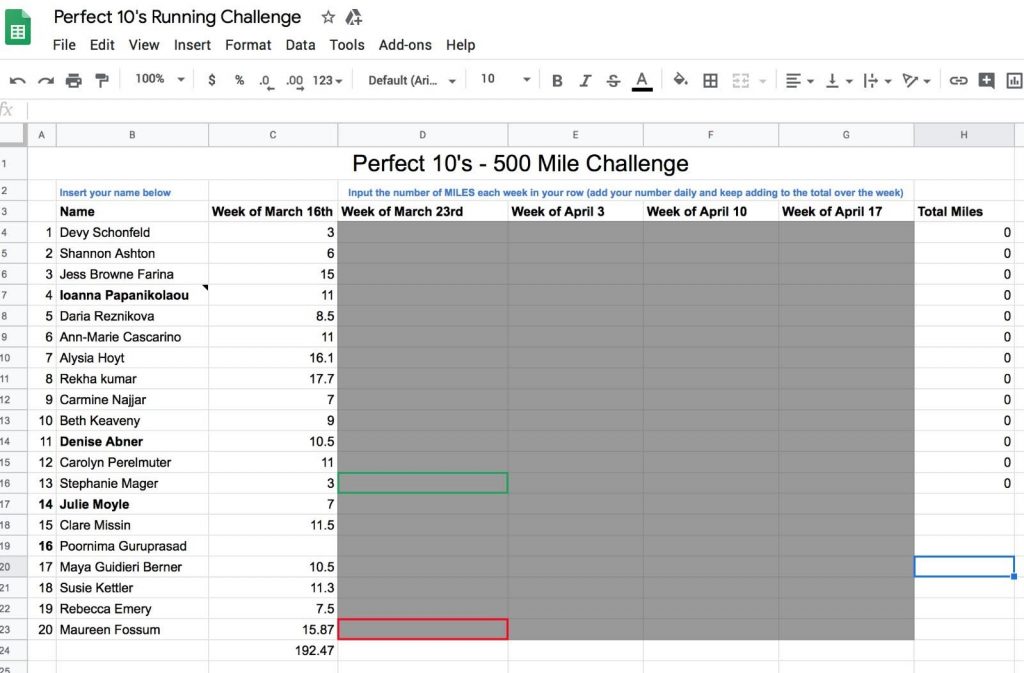 I believe the 11s are doing something similar with overall exercise minutes, which is another great idea, especially as we don't know exactly where things will go with how much we are allowed to be out and about (more on that below). In addition, we've heard about groups within WRW having virtual meetings/hangouts via Zoom or Houseparty, and the Beginners even doing yoga together via a video chat platform. I love hearing how you're all staying socially connected despite the physical distancing– if you have any other great ideas or fun experiences, please share!

Coming soon.  We are working with Karen Hough, known to some as 'The Boss' for her Thursday bootcamps, to create a shared workout experience that doesn't rely on being able to get outside and run.  Karen is also a coach on fitness platform Beachbody, and she has agreed to extend an invitation to all of us who want to join a private, nonmembership group with her to complete and track together challenges and workouts set within the group.  If you are interested in joining this group, please register your e-mail on this Google form.  There's no commitment and no cost, but we will keep you in the loop and let you know when we're ready to get started.
You are truly a strong, resilient group of women.  I've seen nothing but positivity and humor in all the chats and communications I've been a part of as we've transitioned this week to a new kind of community.  Keep chatting, keep lifting each other up– you are all inspiring!  Most of all, as always but especially now, take care of yourselves, and take care of each other!
xx Micki

FEATURED ROUTE OF THE WEEK
Camden/Mornington Crescent – 5 Miles
Head to the canal going eastbound to Camden Lock, where we cross the small, cobblestone bridge, exit the canal and turn right onto Camden High Street (alternatively, turn right just at the bottom of the bridge and go through the opening between the buildings to get to Arlington Road). At the first intersection with Jamestown Road take a right after crossing Jamestown Road and then the first left onto Arlington Road. Run straight down Arlington Road, make a slight right onto Mornington Crescent, follow it around and turn right onto Hampstead Road. At the first intersection, turn right onto Granby Terrace and the second left onto Stanhope Street. Continue down Stanhope until we reach Trinton Square. Turn right and run between the office buildings at Regent's Place, past the nice fountains, to the end of Trinton Street. Use the pedestrian crossings to cross Osnaburgh Street and Albany Street. Head left to the intersection of Euston Road, where you take a right and run briefly along Euston Road. At Park Square East, turn right through the gates towards Regent's Park. We enter the park at the Outer Circle intersection and stay on the path on the far right (east side) of the park, cross the Broad Walk at the ornamental fountain and head along the path with the Zoo to our right. Turn left onto the Outer Circle, past the Avenue Road exit, and right at the second exit (where we usually enter for the canal or park). Run up Charlbert Street to St John's Wood Terrace and make a left to head back to the High Street.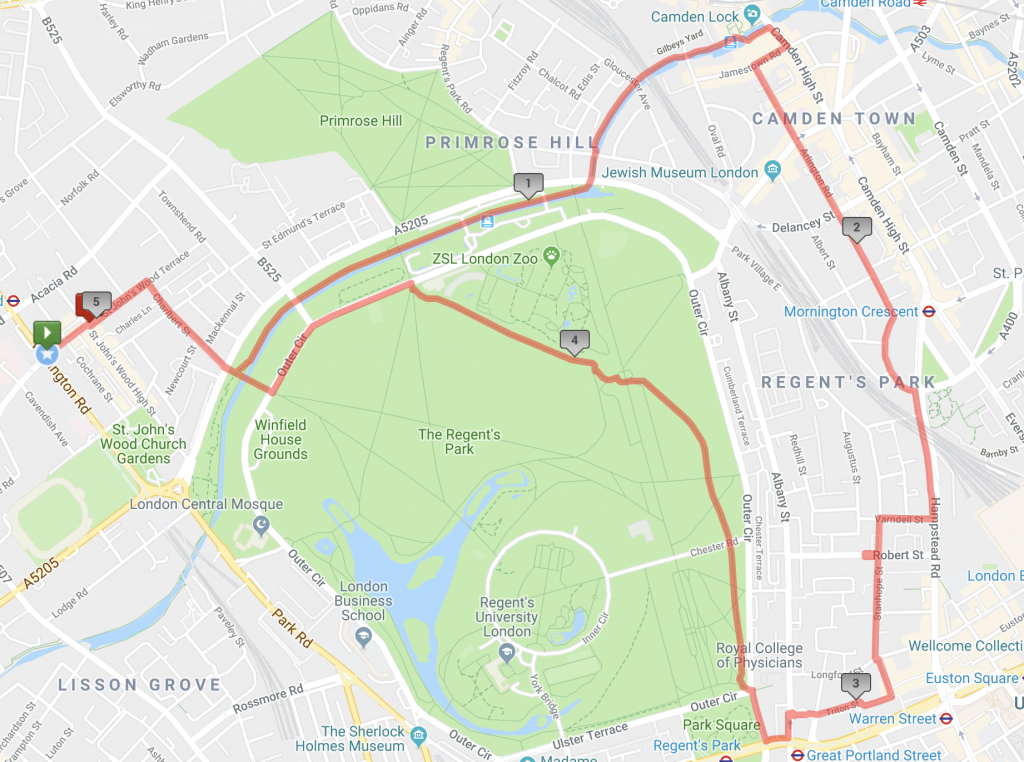 —————-
Website: http://womenrunningtheworld.com/
Facebook Group: Women Running The World (request to join)
Email: wrwlondon@gmail.com