Good morning, Runners!
For those of us just back from Berlin, welcome back to 'real life'! We missed all of our running friends who couldn't make it to Berlin, so it's good to be back! I'm looking forward to seeing our WRW packs back out on the London streets.
Running this week. It's a short week for official runs, given the Monday travel day. Wednesday we'll follow the tradition of taking an easy, 4-mile run through Hyde Park to the Kensington Whole Foods (or Ole & Steen, across the street). If you ran the half marathon on Sunday– especially if you ran for time– take it easy on Wednesday and consider it a recovery run. Have a look around at spring erupting in Hyde Park, take some photos, and enjoy your coffee. A loop back to St Johns Wood is always an option if you are pressed for time. Friday is not the first Friday of the month… but we're going to act like it is and do our Borough Market run this week, anyway.
Shout-outs and Announcements. Welcome to the Beginners Class of 2022! We had six women run the half this weekend as beginners, and they crushed it! As always, it was so much fun to cheer them in! In addition, one of the beginners did her first half marathon here in London at the London Landmarks Half! As these ladies, who have just realised how strong they actually are(!), join the group in the next week and beyond, please give them a big welcome and help them get acclimated to our big, noisy, fun Monday-Wednesday-Friday group!
An important general reminder, for all who ran the half-marathon, is to take care of yourselves. Rest your bodies, take care of any niggles, stretch, get some sleep, eat well, and keep replenishing your fluids! Bask in the glow of a goal achieved! This is WRW-proclaimed 'self-care week'– sandwiched between the Berlin Half and Spring Break family travel.
Your WRW team will get to work preparing the annual video, more photos, and Melissa Kay's tearjerker of a Leaver's slideshow to send to everyone as soon as we can. And on that note, please let me give her a heartfelt shoutout for curating and creating the slideshow– in the rush at the end of the Sunday celebration, I neglected to give her credit for that! We would not have had this WRW tradition in place this year if she had not stepped in and taken it on– so thank you, Melissa!
Looking ahead. Next week is ASL Spring Break, so we will not publish official routes, and there will be no email this coming weekend. The e-mail will be back the following weekend, April 16-17, and though that following Monday is a holiday, we are planning to drop a fun route in your box for the day. Meanwhile, here are a few runs to mark down on your calendars for the spring:
April 11- 18: ASL Spring Break, and no official WRW schedule
April 25: Olympic Park via the canal (9 miles), or Coal Drop Yards via the canal (5 miles)
May 9: Hampton Court Adventure Run (8 miles)
May 16: Alexandra Palace Adventure Run (5 miles, to Finsbury Park finish)
If this seems short (abrupt, even), it's all in the name of getting the routes and news to you! It's also because my heart is still too full to process, much less write about, the weekend experience and all of you amazing ladies– those who were in Berlin AND those who couldn't make it. You know me well enough to know by now there will be more to say. But meanwhile… enjoy the week!
xx Micki
ROUTES
Monday 4 April – Travel day back from Berlin!
All others meet at the Church Gardens for a route of your choice.
Wednesday 6 April – Whole Foods S. Kensington via Hyde Park (4 miles)
RunGo: https://routes.rungoapp.com/route/RXWvNqu3yx
This route heads to Hyde Park in the usual way. Start heading west on Circus Road and turn left on Grove End and follow south as it becomes Lisson Grove. Cross over Marylebone Road and continue on Seymour Place until the end. Turn right and cross over Edgware Road and then left to enter Hyde Park at the intersection with Stanhope Place. We will then run to the left, heading towards Hyde Park Corner, but before we get to the corner we will head off to the right and run along an inner path towards Carriage Drive. Here we cross the road and continue on Flower Walk until we reach the south west corner of Kensington Gardens. We can cross Kensington High Street at Kensington Church Street to get to Whole Foods, which will be directly in front of us, where we can enjoy a coffee together and do a bit of shopping!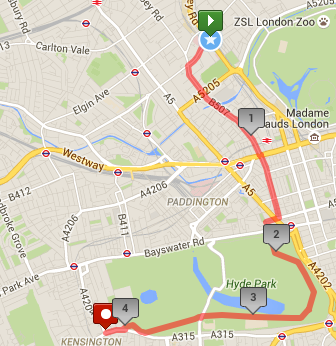 Friday 8 April – Borough Market (6 miles)
RunGo: https://routes.rungoapp.com/route/6U5vDjwEEA
We can grab coffee at Monmouth or Rabot Estates before doing any shopping and catching the tube at London Bridge station back to SJW. Don't forget your mask and your contactless card! We start by heading to Hyde Park via the usual route. Head west on Circus Road, turn left on Grove End Road. At the corner of St. John's Wood Road and Grove End Road, cross diagonally at the light and continue south on Lisson Grove. Cross over Marylebone Road and continue south on Seymour Place until it tees into Seymour Street. Turn right and cross over Edgware Road and then take the first left on Stanhope Place to enter Hyde Park at the intersection with Stanhope Place. Run along the eastern edge of the park to Hyde Park Corner, under Wellington Arch and down Constitution Hill. Run past the Victoria Memorial, cross The Mall at the light and turn right at the grand wrought iron gates into St. James Park. Run over the pond and out of the park, turning left onto Birdcage Walk and down into Parliament Square to Big Ben. Continue past Big Ben and cross Westminster Bridge. After the bridge turn left down the stairs to run along the Thames until the river path ends after Southwark Bridge. Just past Southwark Bridge, head right and then a quick left to go into a short tunnel that puts you onto Clink Street. Make a right on Stoney Street to get to the market (and Monmouth Coffee or Rabot Estates!).