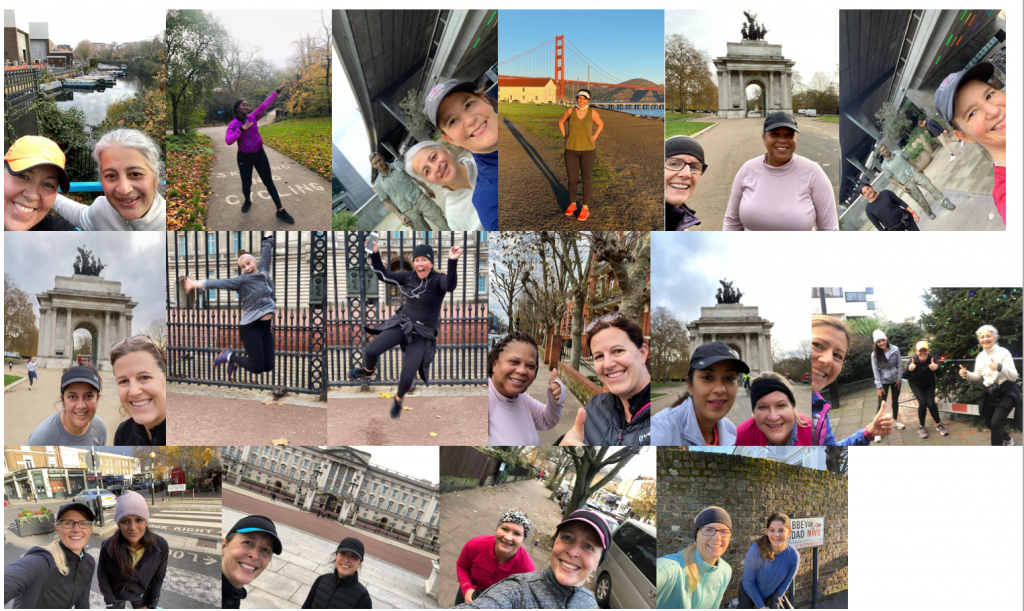 Hello everyone!
I hope those of you that celebrate Thanksgiving had a nice one with your families, even if it was perhaps quieter than usual. My daughter and I spent most of the day cooking and we Zoomed with our parents and my older daughter during the meal – so nice! I am thankful for the opportunity to coach and get to know all of you!
For this Tuesday, just keep in your pairs if you can. If you need a buddy, please let me know and we will find one for you.

Holiday Lights at 6 am
I am so happy that on Wednesday we will be DONE with lockdown! This means we are back to our packs of 6 or fewer on Thursday, just in time for the lights run. It's been wonderful to see the photos of you all out with your individual coaches, but I am so glad we will be back TOGETHER! Remember, we will be meeting on Thursday at 6 am SHARP. If you will NOT be joining us, please let me know so we are not waiting for you.

This week we will be running two 25 minute segments but there will be many extra stops as we take in the holiday decorations. It will be important not to start out too fast as the first half of the run will have few stops.

Since we are meeting so early this week, the Church Gardens will not yet be open. Therefore, we are going to meet at the Barclays and the plaza opposite Barclays this week. To keep our numbers under control, we will split up between the 2 sides of the street so when you arrive, please go to the side with fewer people if possible. We will meet at 6 am and plan to start out ASAP so please be on time. In order to make sure we are back to get the kids off to school, we will do a quick warm up, walk one block down Wellington Road and then we will start running. When we're waiting at Barclays and when we walk or run by the houses in town, be VERY QUIET. No talking or only whispers. Our group is very loud and we don't want to wake up the entire neighbourhood at that early hour! Since it will be so dark, please wear bright or reflective clothing and maybe even carry a bike light or head lamp if you have one. And be extra careful of the cars!
Hampton Court Half and Running the Race
So far, 9 of you have filled out the response form for the race. PLEASE fill it out this week, even if you are not sure if you are planning to run. Please fill out this form!

I realized that since we did not have our traditional beginner breakfast meeting in October to talk about the race, many of you may not realize how it all works. The coaches will run with you all during the race. We will put you into small groups based on your pace and each coach will take a few of you. Your coach will set the pace, making sure you don't start out too fast. She will guide you through water intake and energy intake and be there for anyone who is struggling. We will talk a lot more about this as we get closer, but I wanted you all to know that we won't just train you and leave you – we will be there for you the entire time. I hope this eases some of your minds. Please ask if you have any questions about it.
Last Call for blue WRW Hat from last yearI have 2 of you who are interested in a WRW hat – Jennifer and Tessa. Please let me know this weekend if anyone else is interested – otherwise I will release them to others who have enquired.
Lululemon Event
Marissa O'Malia has arranged with Lululemon to have a private shopping event for WRW.  The details are in the graphic below if you are interested!
The Route for This Week
The map below is the one used by the MWF group and it has us going to Baker Street. To get home by 7:15, you may need to stop at Bond Street and that is fine. However, we have found the last couple of years that to finish the full 25 minute segments, we need to run to Baker Street. So those of you that can do that, that will be our destination if Bond Street doesn't do it for us. Please remember your Oyster/contactless card!
See you all bright and early on Thursday!
Amy