Hello Beginners!  (This is the last time we can call you that!).  We are finally here.  One week from today is the big day.  You all should have received detailed itineraries and other information regarding the half marathon from Jane this weekend.  If you did not receive this information, please contact Jane ASAP.
We are looking forward to meeting with you for either lunch on Monday (noon at Pret) or coffee post-run on Tuesday (9:30 at Starbucks).  We have about half of you coming to the Monday lunch and the other half coming to the Tuesday coffee which is just perfect.  This will be a great opportunity to ask any questions about the race and the trip.    
We have one last group run this Thursday.  It will be a 60 minute run.  We will be running the Notting Hill loop (4.9 miles).  The route is shown below.  We will be leaving promptly at 8:20 so please be warmed up and ready to go.
Please take extra care of yourself this week and stay healthy and strong!  We are so excited for this week.  You all are SO amazing and we are SO proud of you. 
Meg and Vicky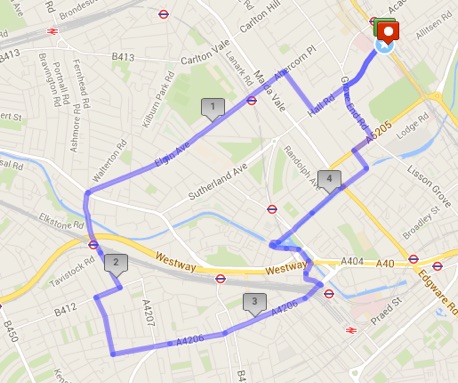 It's time to run that race!
Beginner Note 12 April 2015