Hello Beginners!  We hope you had a wonderful break and recovery week.  It is hard to believe our half marathon is just 8 weeks away!  We have several long runs scheduled between now and then.  It is very important that you don't miss the long runs going forward.  If you have a conflict on a Thursday, please let us know.  Also, it is now time to increase your running time on Tuesdays and weekends.  The Tuesday run should be 60 minutes and the weekend run should be 45 minutes.
This week we will be running 100 minutes.  Vicky has planned a beautiful run to Big Ben and back (map below).  It seems like just yesterday when you did your first run to Big Ben and then took the tube home :).  
We are so looking forward to seeing all of you again on Thursday.
Meg and Vicky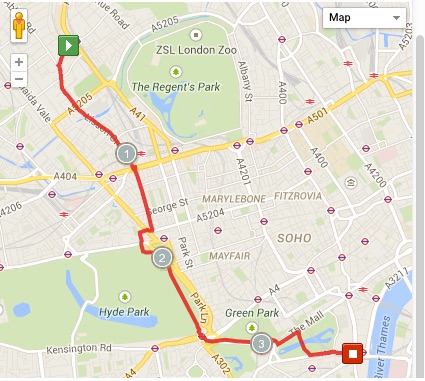 Beginner Note 22 Feb 2015
Sunday, February 22, 2015