Hello Beginner Runners,
For those of you who celebrate American Thanksgiving, I hope you had a fabulous day last week. I've heard from a few of you that there is a bit of turkey, stuffing and pumpkin pie to run off! So, let's get to it….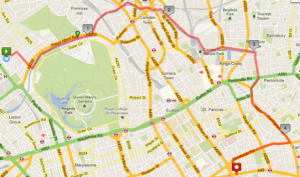 We have 3-4 weeks of training left before most of our runners scatter for the holidays. How about we start the shopping now???? Our plan had been to run to Runners Need on Thursday, 6 December, but the shop will be under renovation that week so let's go this Thursday! The route to Runners Need will take us along the canal past Camden. We will exit from the canal at the edge of Islington then head south along Farringdon Road. At Theobalds Rd, we turn right to run towards the west until we reach Procter Rd where we turn left. Runners Need is on the right hand side about 200 meters from the Procter/Theobalds intersection (it sits above an Evans Cycle Shop). We will be doing two 25 minute intervals separated by a short walking break. The first 25 minute interval will be along the canal (where there are no street crossings). Feel free to slow down your pace during that first running interval. The second interval will be easier as we'll be running on the streets through town.
There are a few things to think about while we're running:
Most important, these long runs should be done at a comfortable pace. You should be able to run and chat. If you are struggling to breathe comfortably and/or carry on a conversation, then slow down. Don't be tempted to walk (until our designated walk break) – just slow down.
If you are a quicker-paced runner, please migrate to the front of the pack before we get to the canal. Once we're on the canal, it's difficult to move up in the group as the towpath is pretty narrow in places.
While we run on the canal, we always get into a single file line and move away from the water for bicycles to go past us. Always put the bike closest to the water. It is our responsibility to see a bike coming and try to get out of their way. It's best to hop into a single file line (closest to the wall) so the biker understands which way to go.
Notice who you end up running with. Who is in your "pace-pack"? Where are you most comfortable (front, middle or back of the group)? Please remember that your pace is not necessarily an indication of fitness. It's not a competition – we're each trying to find our natural pace.
What should be on your shopping list for Runners Need?
Have a look at their hydration systems. Reread the notes from our meeting (this is the link) for tips on water bottles, hydration belts, camelbacks, etc.
Have someone analyze your gait and give you shoe recommendations if you haven't had that done before.
Check out their winter running gear and rain jackets.
Browse through the gels, shot blocks, sport beans, etc to see if any of the flavours interest you. I can show you which ones I prefer and which ones are favorites with our runners.
I look forward to seeing you this week! Please feel free to call or email with any questions/concerns you have.
Happy Running,
Paula