Hello Beginner Runners,
Thanks again for the incredible painting and the afternoon tea. You are spoiling me! I took of a picture of the painting and posted it on the website for any of you who didn't get to see it. It's gorgeous! Also, I'm so sorry that not all of you received your running group shirt before the holidays. I have them in the boot of my car and will finish distributing them when I'm back in January. So sorry!!!
You may have noticed on our training schedule that we're repeating a 60 minute run over and over again for 5 straight weeks. There is a method to that madness! We are trying to become very comfortable with an hour long run. Hopefully over the next 5 weeks, an hour long run will not be particularly overwhelming or worrisome. This is a fabulous place to be – being able to go out and run for an hour is empowering…. you'll feel like Superwoman! The same can be said for the Tuesday run. The schedule has you running 45 minutes every Tuesday until late in January. Believe it or not, that 45 minute run will start to feel like a short jaunt. I'm serious!!!
Let's chat about how to train over the holidays….. For those of you in town and able to join the group run, carry on with the 60 minute Thursday run, a 45 minute Tuesday run, and a 35 minute weekend run. If you are traveling or are not able to follow the normal schedule, try to run 2-3 times a week for 30-35 minutes. As long as nothing is hurting, the pace could be quicker than we normally do but doesn't have to be. There is nothing wrong with holding a gentle pace and running only 30-35 minutes. If you are not able to run at all, let me know. Depending on your circumstances, we may slightly adjust the first 1-2 runs in January for you.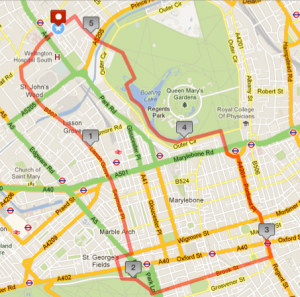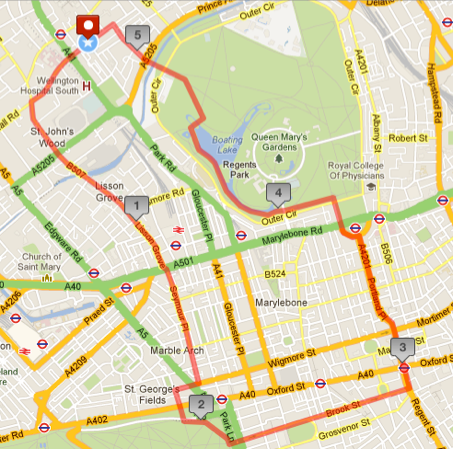 Syma will lead the run this Thursday, 20 December. It will be a loop that takes the group back to Starbucks in SJW (see map). You will be running down to Hyde Park via Lisson Grove/Seymour entering the park near Speaker's Corner. The group will exit Hyde Park at Brook St. and run across to Regent St. The route turns north to run up to Regents Park then back to Starbucks.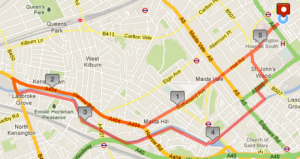 On Thursday, 27 December, none of the coaches will be in town so the group will need to lead itself. You could either repeat the route from 20 December or try a loop over towards Kilburn (see map below). The route would go down Hall Rd (which then changes names to Sutherland). When Sutherland dead-ends into Harrow Rd, turn left. Cross over the canal, drop down to the canal path and head east. When you reach the bridge near the floating cafe where the canal opens up into a small lake, cross over the canal. Continue running alongside the water until you reach Maida Vale Rd. Cross over that intersection and head towards Starbucks via St. John's Wood Rd then Grove End Rd.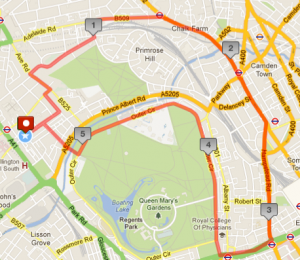 On Thursday, 3 January, Syma will lead the run. It will be another loop back to Starbucks in SJW (see map). This route takes Elsworthy Rd over towards Camden then Chalk Farm Rd. to Euston Rd. The group will turn right, run a couple of minutes, then turn right towards Regents Park. Staying on the pavement/sidewalk on the outside of the hedges, follow the outer loop back to the Charlbourg exit of the park then finish at Starbucks.
Please email me if you have any questions/concerns about your running. I'll be checking my emails regularly while I'm in the US. I look forward to seeing you in the new year!
Happy Running,
Paula