Hi Beginners,
You were awesome today!  I love the Big Ben run and it was so much fun to run it with you today!  I have attached the photos which were taken on my phone.
Syma, Bonnie and I want to make sure that everyone is getting the emails and we would also like to get a clearer idea of who is continuing to run with us each week.  Some of you weren't able to join us at Bonnie's house for coffee a few weeks ago so may not know that registration for the Germany half marathon is open.  I realise that many of you don't want to commit to running that distance.  It is hard to think about running so far, but I know we can all do it if we continue to follow our schedule.  The year that I joined the beginning running group I didn't sign up for the half marathon until mid-January — it wasn't until then that I thought maybe I could do this.  But we are worried that this half marathon will fill up (it is smaller than some of the others), so it is important that you register in the next few weeks.  You don't have to make plane or hotel reservations until later.  All of the information about the half is on www.womenruningtheworld.com under the March Half-Marathon tab.  Please feel free to contact Syma, Bonnie or me if you have any questions.
Can you please respond to me and let me know the following:
1. Name
2. email address
3. Which of the following best describes you?  a – have already signed up for the half; b – plan to sign up for the half but not sure if I will actually go; c – don't want to sign up for the half, but want to continue running with the group; d – no longer running with the group, please take me off the list; e – I am finding this program to be quite easy and would like to talk to someone about going faster; f – fill in your own description!
One other note — I have heard some of you talking about meeting on Saturdays for a third run.  The description for this run is on the New Runner Training Program:  from the website click on the Beginner tab, then click to see the entire six month program, then click on 'Link to file:  Beg-2013-14.pdf '.  The second page of the pdf file gives more detail on the runs.
If you notice that someone is omitted from this email list, please forward it to them.  We don't want to lose anyone!!
Many thanks!!
Betsy
After the run to Big Ben!
Beginner Note 24 October 2013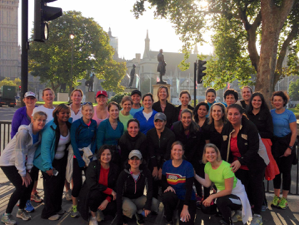 Thursday, October 24, 2013