What a fabulous run to Canary Wharf! Not.
OK – wow. This weather is crazy. Really, none of us who run WRW have ever seen anything like it. We had one winter 5 years ago that was cold with some snow, but nothing that lasted more than 1 day. And you all got to be a part of it – lucky you!
I'm writing this a bit early because I'm away for the weekend and I wanted to get it out to you. Nothing like a little getaway to the Lake District for hiking in the middle of the coldest weeks in the UK in a decade 🙂
First of all, and this is REALLY IMPORTANT SO LISTEN UP!
YOU ALL ARE COMPLETELY FINE FOR THE RACE EVEN THOUGH WE DIDN'T RUN TO CANARY.
Here's the thing with the race. Our goal is to finish the race and to run the whole time. The goal is not to beat the world record. Every single one of you will have a personal best time with this race. You have ALL put in the training. Yes, it would have been nice to have that run this week, but really at this point, 90% of it is psychological – to prove to you that you can do it. I am completely serious.
So – do not fret. But DO get out there (or on a treadmill) this weekend and on Tuesday and do your regular runs. If you want to make this weekend's run longer than normal, that is completely fine and in fact might be a good idea if you didn't do the treadmill yesterday or today. But don't make Tuesday's run longer than the usual 60 minutes. We don't want your legs too tired for Thursday.
Regarding the race:
the beginners and coaches will sit together on Saturday and Sunday nights – this is tradition – Saturday so we can answer any last minute questions and help you calm your nerves and Sunday to CELEBRATE!! Use Friday night's dinner to mix it up a bit – meet some of the other MWF runners. They are really nice and fun!
Jane will send out an email probably at the end of next week/over the weekend with more details about the whole weekend and tips about packing and other things like that. In my email for our last training week I will emphasize some of those as well.
I'll be sending out the photo directory at the end of next week as well –Carol & Vered– I still need your answers and a photo for the directory
OK – a few things for the run this week:
We would like to have our group of 6 (Carol, Claudia, Fernanda, Nancy, Purvi, Sue) leave at 8:10 if possible – please let me know if you cannot make that time.
Use this run to try out what you might wear in Utrecht – your shirt, waist pouch, hat, leggings, socks. If the weather isn't cooperative, it's OK to wear different bottoms, but it would be good to wear your expected shirt so you make sure it doesn't chafe. We want no surprises on race day that something that worked for a 6 mile run suddenly starts chafing at 9 miles. Right now, the weather in Utrecht looks to be highs in the mid 40s (7-8 C) and a lows in the mid 30s (1-2 C). With the race at 12:30 pm, the temp will probably be in the low 40s to start. If it's sunny, it will feel a little warmer but it seems that it will be a temperature we're very familiar with and that's perfect.
Bring your Oyster card or contactless card to take the tube back plus money for Starbucks
Bring a gel, maybe two and maybe something like jelly beans, starbursts, etc.
Bring water
Eat well and get a good night's rest the night before and don't go out partying
Stretch the night before if you can
Eat something for breakfast
A note about bathrooms along the run – around mile 5, there is a Costa Coffee attached to the Hilton Hotel on the Kensington High Street (just past the intersection with Holland Road) which has a few toilets. There is also a Starbucks at mile 5.7 but it only has a single toilet. We are not going to plan a stop – it's better to keep running – but if you need to stop, a coach will wait for you and other coaches will continue on with the group.
If you have any questions/concerns, let one of us know. Otherwise, we'll see you Thursday!
The route:
We start out the normal way running to Hyde Park. Once in the park, we'll turn to the left and run down the main walkway as we regularly do, to Hyde Park Corner. At the end of the walk, turn right to follow the main cross route in the park—beware of the bike lane! When this ends at West Carriage Drive, cross the road at the crossing and continue on the pathway towards the southwest corner of Kensington Gardens. We'll run out of the park at the Broadwalk, turning right onto Kensington High Street and continue for about two miles until we reach the Hammersmith Tube gyratory. Run counter clockwise towards the left, ending up on Queen Caroline Street which gets you to St. Paul's Church green. Run along the green to the right, heading to and crossing over Hammersmith Bridge. Exit Hammersmith Bridge Road to your left, go down the stairs and run under the bridge onto the Thames footpath. Now it's time to enjoy the view as we run along the Thames for almost four miles—it's beautiful!
This is the bridge just BEFORE the bridge we exit on. I find it useful to know what this looks like because then I know it's the next bridge where we get off the path: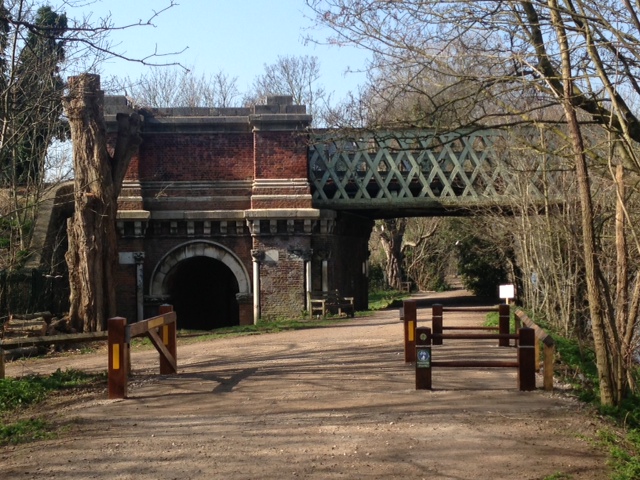 We will exit at the Kew Bridge, see photo below: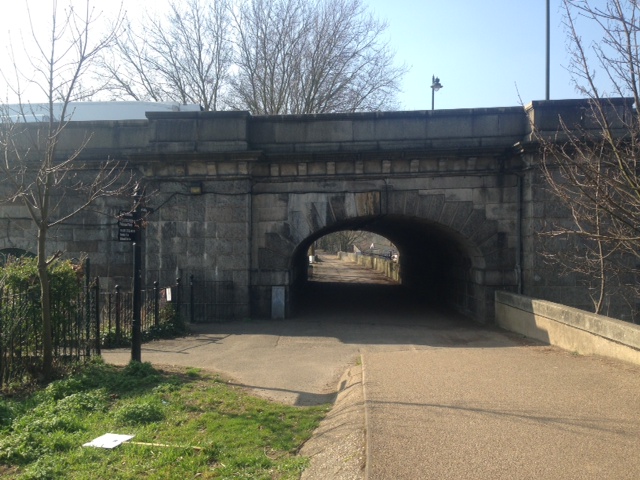 Run UNDER the bridge and then turn left, past a couple of tiny shops and garages. Run through the small parking lot until you see the stone steps leading to the top of the bridge.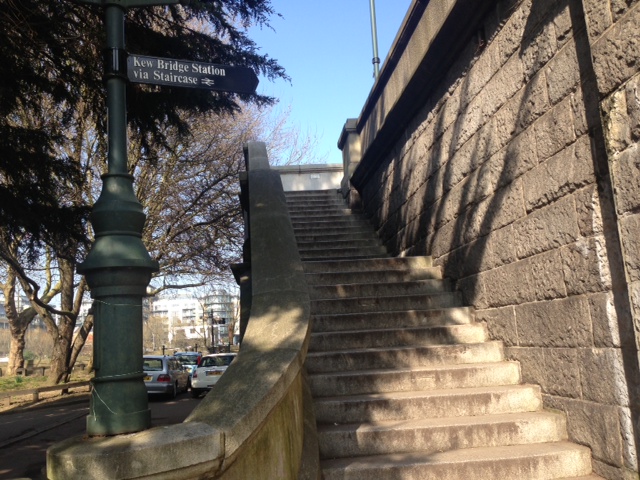 At the top of the steps turn right towards town (not back over the river) and run along this road [Kew Road] for about a third of a mile until you reach a 3-way intersection. At the 3-way intersection, veer right and follow Kew Road along the boundary wall to Kew Gardens until you reach the first main pedestrian entrance to Kew Gardens, the Victoria Gate. Across from Victoria Gate, is Lichfield Road (it is only sign posted on the left-hand corner). Follow Lichfield Road straight into Kew village. Starbucks is on the left where we'll all meet up to congratulate ourselves on such a great run!