Hi all!
Such great photos from the Belgravia Wander Art run!  You all continue to impress us as you get it done every week.
This week, we are starting some destination runs.  Although we still need to be in pairs, we would like to see if we can coordinate a bit more and do some pairs together – with one coach and 3 runners or maybe 2 coaches and 4 runners, with the pairs running close enough to see but not close enough to hear.  This will require everyone to group based on pace.  This may not work, depending on everyone's availability, but let's give it a shot.
For this week, we are running 9 miles to Canary Wharf.  There are a couple of you (Devyani, Trenita, Tessa) who I believe have run about 6 miles.  I don't want you guys to try this full 9 mile run yet, but I would love for you to be a part of it.  If you are willing and able, you could join us very close to the Angel tube station – we practically run right by it – and that would give you just under 6 miles from there to Canary.  We can give you the approximate time to meet us if you can do it.
I'd like to start getting you guys back on a Thursday schedule anyway since we just have a few weeks (YAY!) until we can run basically together again.  In an ideal world, this is what I'd like to have for Thursday:
8:30 start – Tammy and Mariyam with Trenita meeting this group at Angel
9:00 start – Darlene and Corisha with Devyani meeting this group at Angel
9:20 start – Joanna, Farhana, Sue, Natasha, Heloisa with Tessa meeting this group at Angel
Then we will all end up at Canary at approximately the same time, give or take, and we can celebrate together but apart.
Please let me know ASAP if you cannot do the run this Thursday at those times – we will determine who can/can't and figure out how to make it work for you for another day/time.
The Half – Thursday 29 April
Mark your calendars for Thursday 29 April – this is our official race day, rain or shine.  But here's the thing, I want ALL OF YOU to mark your calendars, take the day off of work, get babysitters, WHATEVER IT TAKES for that day.  Act like it is truly the race day.  Even if you think you won't be running the full race, we will figure out ways for some of you to run (or walk, or run/walk) a shorter distance – whatever is the right distance for you.  There are several places along the route where people can join in.  And I do mean ALL of you – even you, Ash, for whatever works for you at the time, boot or not.  And Wunmi – where are you?!?!  We miss you!  We want you out there with us – whatever that means for you!!  So seriously – I need everyone to make your arrangements now – act like you are going to be out of town for the day and get your back up/vacation day/whatever!  This is your day – the time to celebrate all of you!  OK, lecture over… for now.
The Route This Week
RunGo:  https://routes.rungoapp.com/route/mLJsXpZAkm
OK – for the run, we will bring gels, and for you – don't forget:
eat something before the run
bring water
bring your Oyster/contactless card
bring a credit card in case breakfast burritos are available…
Section One – Canal to the Wall
Run along St. John's Wood Terrace taking a right on Charlbert Street to join the canal in Regents Park at the Charlbert Street entrance. Run along the canal for approximately 3 miles until the canal pathway ends at the famous "Wall."
Section Two – Angel Roads
We need to run through the Angel neighbourhood until we can re-enter the canal path. At the wall follow the ramp up to Muriel Street. (This is a good place to wait for your pace group.) Take a right and then an almost immediate left up a path that winds between the apartment buildings. See the picture below for the entrance to the path.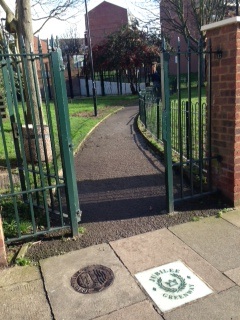 Keep going straight on the path and it will become Maygood Street. When you get to the intersection with a main road (Barnsbury Road) turn right. Run until you make the second left onto Chapel Market. (There is a metal archway saying Chapel Market and a zebra crossing at the intersection.) Follow Chapel Market until the end. (NB:  There is a public Ladies Room at the end of White Conduit Street, which intersects with Chapel Market about midway.) Turn right at Liverpool Street to the major road Upper Street. Cross Upper Street and turn left. (NB:  Angel Tube Station is to the right if you are joining from here.)  Make your first right at Duncan Street and follow until the end. The entrance to the canal path will be directly in front of you. Go straight along the canal (NOT a sharp right turn.)
Section Three – Canal to Limehouse Basin
We run for about 4 miles following the canal path past Victoria Park to the Limehouse Basin. We exit the canal path at the wire looking bridge – see picture – and take the brown brick steps up to the left.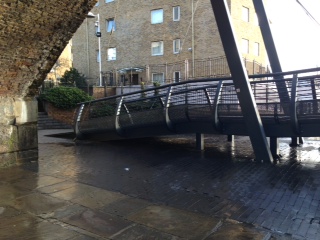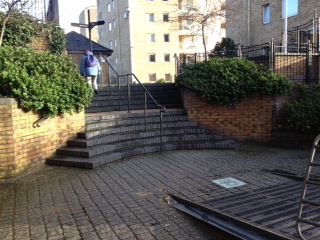 Section Four – Limehouse Basin to Canary Wharf
At the top of the brick steps, go straight. At the Limehouse Gallery and Bronze Age shop turn right. Run along the water until you reach the second metal foot-bridge leading to a park. Cross the bridge and run through the park. After the park, you'll run straight, under an arch and the water will be on your right. Run with the water on your right until you see the long flight of steps next to Royal China – see picture. You're almost there! Only a third of a mile remaining!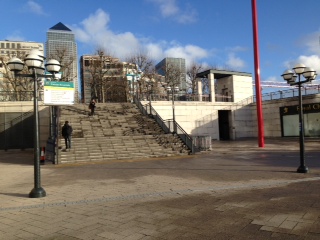 Run up the steps and straight ahead, through the small park to India Drive and then veer slightly right along Cabot Square. You're heading for the big skyscraper building in front of you. Stop when you see the sign for the Canary Wharf DLR Station at the 'mall' entrance on the South Colonnade. After grabbing a coffee, or maybe a breakfast burrito (if they are open), we'll head to the Canary Wharf Tube station [Jubilee Line] and tube it home to SJW. Congratulations!