Hello Beginners~  
Congrats on doing so well on your second 60 minute run last week.  You all have made such incredible progress in such a short period of time.  We are so excited for and proud of all of you!
Regarding the half marathon, thank you to those of you who have already registered and let Meg know.  For the rest of you…please register asap and email Meg when you have signed up.  Also, please email Patricia Shelton (pjshelton2@gmail.com) with your flight details asap.
This week we will start increasing our running time by 10 minutes.  Please make sure you are getting in two other runs each week in addition to our Thursday group runs.  The Tuesday run should be approximately 45 minutes and the weekend run should be approximately 35 minutes.  
For this Thursday's run, Vicky has come up with a nice route which will end up at Jen Skor's house for the coffee.  Thanks again to Jen for hosting us.
Kensal Rise to Jen's house:
Start out heading west on Circus Road, turn left on Grove End to St John's Wood Road and go west, working your way to the canal entrance on Blomfield.  Enter the canal heading west and run to the Ladbroke Grove exit.  Here we turn right and run over the bridge along Chamberlayne Road to Harvist Road. Turn right on Harvist, which turns into Brondesbury Road, and take that to Kilburn High Road/Maida Vale.  Turn right and follow Maida Vale to Carlton Hill. Turn left on Carlton Hill and run to Abbey Road where we turn right and go to Jen's house, 32a Abbey Road.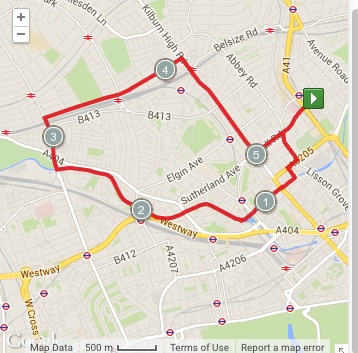 Beginner Note 26 Jan 2015